Wilmington, Del. — General Motors Corp. plans to close plants and eliminate 25,000 manufacturing jobs in the United States by 2008 in an attempt to restore profitability at the world's largest automaker, its chairman said Tuesday as he fended off calls for his resignation.
Chairman and Chief Executive Rick Wagoner told shareholders at GM's 97th annual meeting in Delaware that the capacity and job cuts should generate annual savings of roughly $2.5 billion. About one out of six jobs in the United States will be eliminated.
The United Auto Workers union responded that GM's ability to make the cuts will depend on worker attrition rates and its contract negotiations with the union. GM's UAW contract expires in 2007.
"The UAW is not convinced that GM can simply shrink its way out of its current problems. What's needed is an intense focus on rebuilding GM's U.S. market share, and the way to get there is by offering the right product mix of vehicles with world-class design and quality," said UAW Vice President Richard Shoemaker, who directs negotiations with GM.
Wagoner revealed the cutbacks as he laid out a strategy to invigorate GM's North American operations, its biggest and most troubled, amid lackluster sales of its highly profitable trucks and sport utility vehicles, which have been hurt by high fuel prices.
GM posted a $1.1 billion loss in the first quarter and its U.S. market share has fallen to 25.4 percent from 27 percent a year ago, as customers increasingly are choosing models from Toyota Motor Corp., Nissan Motor Co. and other Asian automakers.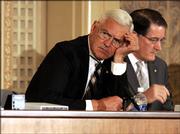 The cuts would be on top of earlier reductions that pared GM's U.S. work force from 177,000 hourly and salaried employees at the end of 2000 to 150,000 at the end of last year, according to figures provided by GM.
"Let me say up front that our absolute top priority is to get our largest business unit back to profitability as soon as possible," said Wagoner, who added that with $20 billion in cash and short-term investments, GM is in no danger of going out of business anytime soon.
"But if we don't fundamentally get at these structural issues - whether it's gee-whiz, exciting products, or the right distribution, or a solid cost structure in every element of business - the risk of continually being weakened over time is real," he said.
Wagoner wouldn't say which plants are in danger of being closed, but David Cole, chairman of the Center for Automotive Research in Ann Arbor, Mich., said the most likely targets are several older plants. Those include facilities in Janesville, Wis.; Doraville, Ga.; Oklahoma City and Pontiac, Mich., he said.
GM has a plant in Kansas City, Kan.
General Motors shares rose 31 cents, or 1 percent, to close at $30.73 Tuesday on the New York Stock Exchange.
Copyright 2018 The Associated Press. All rights reserved. This material may not be published, broadcast, rewritten or redistributed. We strive to uphold our values for every story published.