Kansas City, Mo. — Chan Ho Park owes his 100th victory to the Texas Rangers' offense.
Park got through five shaky innings, Michael Young had four hits, and Texas beat Kansas City, 14-9, Saturday, handing the Royals their first loss under new manager Buddy Bell.
"I'm very appreciative of my teammates," Park said. "The hitters picked me up so well. It was more offense than pitching today."
The Rangers got home runs from Young, Alfonso Soriano, Rod Barajas and Laynce Nix to end Kansas City's four-game winning streak, its longest since September 2003.
Bell dropped to 4-1 since taking over the worst team in the major leagues Tuesday.
Young, Barajas and Mark Teixeira each drove in three runs to back Park, who gave up eight hits and four runs in the first two innings. But he got through five innings to win his sixth straight decision in 10 starts since a loss April 8.
Park (6-1) allowed six runs and 11 hits before departing after 107 pitches. With the game televised live back home, he became the first South Korean pitcher to win 100 games in the majors.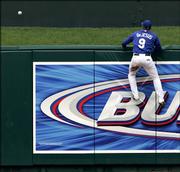 "We're happy for Chan Ho," Teixeira said. "He's done a great job for us all year. We were taking nothing for granted. They were swinging the bats well. It seemed like the game never was going to end."
Teixeira reached base five times, including two doubles. The Rangers' 19 hits matched their season high.
Royals right-hander Jose Lima, winless in 14 starts since a Sept. 14 victory over San Diego, was staked to a 4-0 lead but gave it all back in the third. Barajas led off with a homer, and Teixeira and Hank Blalock hit consecutive doubles with two outs to produce another run.
Soriano's 15th homer with Blalock aboard tied it.
Lima, who has an 8.39 earned-run average, has allowed 15 home runs, most in the AL. He gave up five runs, seven hits and two walks in 3 2/3 innings.
When he was pulled, Lima tipped his cap and clapped as he walked off. He said he was not mocking the fans, most of whom were booing.
"I was tipping my cap to the fans who were applauding me behind the dugout," Lima said. "It's not the first time I've been booed. When I stunk like today, I deserved to be booed. They should be throwing stones at me."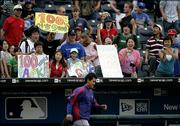 Lima had an animated conversation with pitching coach Guy Hansen on the mound when he was lifted.
"I told Guy, 'What next, the electric chair?"' Lima said. "I'm not going to jump off a bridge. I've been through tough times before."
The Rangers chased Lima (0-5) with a run in the fourth. Young, who extended his hitting streak to a career-high 14 games, singled home Nix to make it 5-4. Young, who homered in the eighth, is hitting .467 during his hitting streak. He has six consecutive multihit games.
The Rangers sent 11 batters to the plate in a six-run fifth, which included a three-run double by Teixeira. Barajas had a two-run single, and Young drove in the other run with a single.
"With the new infield grass down, it's real fast, and it is hot and humid and balls were flying," Texas manager Buck Showalter said. "It was one of those days where obviously there were going to be a lot of pitchers used."
Royals reliever Steve Stemle was charged with all six runs after not allowing a run in his first three big-league outings covering 7 1/3 innings.
Nix homered off Mike Wood leading off the sixth.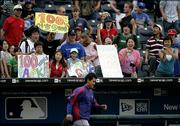 The Royals got five singles in the first inning to score two runs. Angel Berroa scored when Mike Sweeney grounded into a double play. Terrence Long's single scored Matt Stairs with the second run.
Berroa and David DeJesus, who had three hits, each drove in a run in the second, pushing the Royals' lead to 4-0.
Kansas City rookie Mark Teahen hit a two-run single in the sixth. Emil Brown, who had three hits to match his career high, homered in a two-run seventh off left-hander Ron Mahay.
"It seemed encouraging at times when we kept putting runs up and getting people on, but then we'd give up a run and that kind of sucked the energy out of things, especially when it happened a couple of times," Bell said.
Copyright 2018 The Lawrence Journal-World. All rights reserved. This material may not be published, broadcast, rewritten or redistributed. We strive to uphold our values for every story published.