They couldn't talk. But that doesn't mean they had nothing to say.
Dena Podrebarac remembers well the frustration she experienced several years ago watching her young children try to tell her something before they were old enough to speak. So when her third daughter, Vivian, was born 17 months ago, she decided to try something new: teaching her daughter sign language.
Podrebarac has been pleased with the results.
"She's been able to communicate for us when she wants more of something, and what she wants more of, since before she could speak," she said of Vivian, now 17 months old. "That saves a lot of crying time and : wondering what she wants."
Infant sign language has seen a surge in popularity in recent years, perhaps the result of a prominent mention in the movie "Meet the Fockers." Growing interest also may have been spurred by showings from federally funded research that children can benefit from learning sign language while there are few - if any - drawbacks.
"It's really trendy right now," said Sarah Long, who recently started Joyful Hands Co., a Lawrence business that teaches sign language to parents and their infants. "I'd like to take it further than that and actually make it where it's educational for the kids and show what great benefits it can have for families."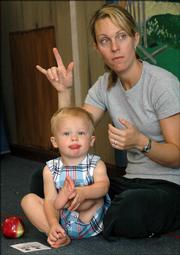 Sign language is most effective in children ages 6 months to one year, said Nancy Brady, an associate research professor at Kansas University's Schiefelbusch Institute for Life Span Studies. That's because babies' brains have developed enough to know what they want, but their mouths haven't developed enough to form the words.
Their hands, however, can show what they want to say. Common baby signs - often done in the American Sign Language system - include "eat," "milk," "mom," "dad," "bath" and "swing."
"It's a significant advantage," Brady said. "The kids would actually use signs before they would start to talk."
Research conducted at the University of California-Davis has shown that babies who sign early in life don't see delays in learning to talk, Brady said. She said most children typically phase out using sign language once they can talk because speaking is more efficient.
"I don't see any real drawbacks," Brady said. "It's a good strategy. It can promote parent-to-child communication."
Long teaches 12-week classes with six or seven babies and their parents. The classes meet once a week for an hour.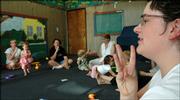 She started the business after seeing the effects of teaching sign language to her own son, Noah, who is 11 months old.
"It's benefited our family because it eliminates a lot of the guesswork that comes with parenting a preverbal child," Long said. "They can get across specific thoughts, it gives you a little window into their personality and it lessens their frustration greatly."
Melissa Hoffman also has seen the benefits. She started teaching her son, Braden, signs at 7 months. He's now 17 months old.
She started with basic words like "milk" and "eat." Now, Braden signs 20 words in addition to speaking a few.
"It was amazing to me he was able to catch on," Hoffman said. "It totally cut down on the amount of whining and crying. And that cut down on headaches for me."
Copyright 2018 The Lawrence Journal-World. All rights reserved. This material may not be published, broadcast, rewritten or redistributed. We strive to uphold our values for every story published.