Belfast, Northern Ireland — The Irish Republican Army renounced the use of violence against British rule Thursday and said it will disarm - a dramatic end to the IRA's 35-year threat to Northern Ireland and a boost toward peace making.
British Prime Minister Tony Blair praised what he called "a step of unparalleled magnitude," and leaders in Ireland and the United States also heralded the announcement as historic.
Sinn Fein party leader Gerry Adams, who reportedly quit the IRA's seven-man command in May after three decades, said the IRA was effectively ending its self-declared war to force Northern Ireland out of the United Kingdom.
"There is a time to resist, to stand up and to confront the enemy by arms if necessary," Adams said. "In other words, unfortunately, there is a time for war. There is also a time to engage, to reach out, to put the war behind us all. ... This is that time."
Thursday's declaration followed a two-year diplomatic showdown between the IRA and its allied Sinn Fein party, on the one hand, and an increasingly unified, impatient world community on the other.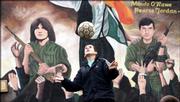 The IRA has faced mounting international pressure to disarm and disband since December, when police blamed it for a world-record $50 million bank robbery. The following month IRA members knifed to death a Catholic civilian outside a Belfast bar, touching off an unprecedented campaign for justice by the victim's family.
In its statement, the IRA said it had "formally ordered an end to the armed campaign," a fundamental advance on its existing 1997 cease-fire, which had been open-ended. The statement was read aloud by IRA veteran Seanna Walsh in a DVD recording distributed to broadcasters.
The IRA said it instructed its members to "dump arms." It didn't specify how, or whether members would be allowed to retain any weapons, but said its representative would reopen talks immediately with John de Chastelain, a retired Canadian general who since 1997 has been trying to disarm the IRA and Northern Ireland's myriad other outlawed gangs.
The IRA said it hoped to complete the disposal of its weapon stockpiles "as quickly as possible" and would allow Catholic and Protestant clergy to witness the disarmament work. The IRA surrendered unknown amounts of arms in 2001, 2002 and 2003 amid total secrecy, fueling Protestants' suspicions they were being conned.
The British, Irish and American governments have stressed that the central goal of Northern Ireland's Good Friday peace accord of 1998 - a stable Catholic-Protestant administration - simply would never happen unless the IRA disbanded in fact, if not in name.
That conclusion followed the collapse in 2002 of a moderate-led coalition amid chronic arguments over IRA activities and weapons stockpiles. Sinn Fein had two of 12 posts in that coalition, but would be the major Catholic part of any future coalition because of its growing vote.
Copyright 2018 The Associated Press. All rights reserved. This material may not be published, broadcast, rewritten or redistributed. We strive to uphold our values for every story published.