Philadelphia — Working under a national media spotlight, police recruits searched a wooded section of Cobbs Creek Park Thursday looking for clues about the fate of Latoyia Figueroa, a pregnant Philadelphia woman missing since July 18.
In a highly unusual move, police allowed reporters to shadow the searchers as they made their way through the high grass and underbrush.
"We want to get as much exposure as we can," said Lt. Frank J. Vanore Jr., who is heading the investigation.
For now, at least, exposure is not a problem.
Thanks largely to the efforts of a local Internet blogger, the Figueroa case is receiving plenty of national coverage, particularly from cable news.
"These missing-persons stories happen every day," said the blogger, Richard Blair, who operates a progressive political Web site at www.allspinzone.com. "But which become newsworthy? A lot of it has to do with skin color and economics, but more important, I think, is what catches somebody's eye. If you get the word out, news organizations will respond. That's what we did."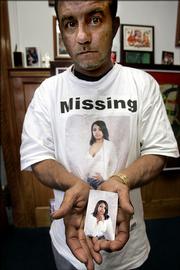 Late last week, Philadelphia police briefed reporters about the missing woman. But little coverage ensued.
So on Tuesday, Blair, thinking the case deserved more attention, dispatched a pointed e-mail to Nancy Grace, host of a nightly show on CNN Headline News. Grace's show has given constant coverage to the case of Natalee Holloway, the Alabama teenager missing in Aruba.
The e-mail read: "Latoyia Figueroa is still missing after 8 days. And as tragic as the Natalee Holloway case might be, Natalee doesn't have a 7-year-old child wondering where she is, nor was Natalee ... 5 months pregnant."
Jab at 'runaway bride'
Blair also mentioned that the 24-year-old Figueroa was not white, did not have blond hair, and was not scheduled to get married last weekend - a reference to Jennifer Wilbanks, the so-called runaway bride whose disappearance dominated media reports earlier this year.
After Blair posted the e-mail on his site, two things happened. He sent the message out to a number of other Web sites, several of which posted it, generating a lot of supportive comment. And the e-mail to Grace got noticed by a CNN producer, who was spurred into action.
The results were immediate and dramatic.
Early Wednesday, CNN posted a story about Figueroa on its Web site, quoting Blair, among others. The network mentioned the story of the missing woman throughout the rest of the day.
Demographics
The other cable news outlets quickly joined in. The story was discussed Wednesday night on MSNBC, with news show host Tucker Carlson mentioning the blogger.
"His point," Carlson said of Blair, "was the obvious one. And it is that black women from city centers, from urban areas, who disappear get none of the coverage that those like Natalee Holloway get, who are obviously from a different demographic. And, you know, it's impossible to deny the truth of this."
Blogs versus news media
What has happened also highlights the role of bloggers vis-a-vis the mainstream media.
"Blogs can act as a stimulus to traditional journalism," said Richard Craig, who teaches journalism at San Jose State University. "That's what happened in this case. It's a good thing."
The Inquirer did not cover the Figueroa case until Thursday, publishing a story about community leaders calling for help in finding her.
By way of explanation, deputy managing editor Carl H. Lavin noted that cases of missing adults are not rare. The FBI currently lists 48,000 missing-persons nationally.
"But she's been missing for a very long time now, and there's no obvious, benign explanation for her being gone," Lavin said. "Those are part of what makes the story newsworthy."
The Citizens Crime Commission of Delaware Valley has issued a $10,000 reward for information leading to the woman's whereabouts. That amount may go higher; Blair is raising money in the blogosphere.
Thursday, a grim-faced Melvin Figueroa, 44, watched as police looked for any signs of his missing daughter, then did interviews with Fox, MSNBC, Court TV and Telemundo.
"It is very hard for me as a father," he said. "But I just have faith in the Lord and believe in the Lord to help me find my child."
Copyright 2018 The Lawrence Journal-World. All rights reserved. This material may not be published, broadcast, rewritten or redistributed. We strive to uphold our values for every story published.