Cape Canaveral, Fla — NASA plans to launch the first space shuttle flight in 2 1/2 years, even if it is plagued by the same fuel gauge problem that halted the previous countdown two weeks ago, officials said Sunday.
Discovery is set to lift off Tuesday at 10:39 a.m., the same time Columbia took off in 2003.
Deputy shuttle program manager Wayne Hale said the fuel gauge problem has been a vexing one - engineers still don't know exactly what caused it - and he's repeatedly asked himself, "Are we taking care enough to do it right?"
"Based on the last 10 days' worth of effort, the huge number of people and the tremendous number of hours that have been spent in testing and analysis, I think that we're coming to the right place," he said.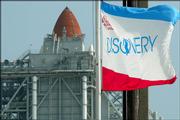 At an evening news conference, Hale and other NASA officials found themselves defending the decision to launch with a fuel gauge failure. They stressed that they will proceed with a liftoff only if the problem is well understood and involves the gauges in question - anything else will result in a postponement.
NASA's own launch rule - in place since the 1986 Challenger disaster - requires that all four hydrogen fuel gauges in the external tank be working properly. Going with three out of four would result in a "deviation" of the rule, Hale said.
"I am committed - and I think the whole team is committed - to doing this in a safe manner," Hale said. "I think we're all still struggling a little bit with the ghost of Columbia, and therefore we want to make sure we do it right."
NASA Administrator Michael Griffin said he supports the decision and even hopes the problem recurs to further pinpoint the source of the trouble.
Copyright 2018 The Associated Press. All rights reserved. This material may not be published, broadcast, rewritten or redistributed. We strive to uphold our values for every story published.