Baghdad, Iraq — Police tightened security in an upscale Baghdad neighborhood Friday as the search continued for two Algerian diplomats kidnapped there. At least 16 people died in attacks in Baghdad and elsewhere.
More police were on the streets and motorists reported extra checkpoints Friday in the western Baghdad neighborhood of Mansour, where top Algerian envoy Ali Belaroussi, 62, and fellow Algerian diplomat, Azzedine Belkadi, 47, were seized the day before. They were not traveling with bodyguards, officials said.
The kidnappings brought to five the number of key diplomats from Islamic countries targeted in Baghdad in less than three weeks in an attempt to undermine support for the Iraqi government among Arab and Muslim nations.
Police officials said they suspected the diplomats and their kidnappers may still be in the Mansour area because witnesses reported the abduction too quickly for the gunmen to have gone far.
Egypt's top envoy, Ihab al-Sherif, was seized at gunpoint in another western Baghdad neighborhood on July 2, also without security. Three days later, gunmen opened fire on senior envoys from Pakistan and Bahrain in separate attacks police described as kidnap attempts.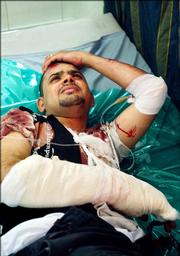 Al-Qaida's wing in Iraq, the country's most feared terror group, claimed responsibility in Web statements for kidnapping al-Sherif and later claimed to have killed him. It warned Muslim nations against ties with Baghdad.
Also in Baghdad, gunmen fired on a car carrying a newlywed couple and their families on Friday, killing the 23-year-old bride and wounding the Iraqi army captain she had just married.
The attack came after Iraqi army Capt. Wissam Abdul-Wahab and his new bride, Sally, were picked up by their families after spending their wedding night at a hotel.
They were ambushed in Baghdad's southern Dora neighborhood.
"My poor Sally, she was very happy yesterday," sobbed her mother-in-law Latifah Mohammed.
Also Friday, the U.S. military announced that a Marine was killed the day before in a roadside bombing while conducting combat operations west of Baghdad.
At least 1,774 members of the U.S. military had died since the Iraq war started in March 2003, according to an Associated Press count.
Meanwhile, Syria claimed its border guards were fired on by U.S. and Iraqi troops. A statement issued Thursday cited "about 100 armed clashes, some of which were carried out by American soldiers who opened fire randomly." It did not elaborate.
Maj. Gen. Stephen Johnson, the top commander for U.S. forces in western Iraq, including the border area near Syria, said he had no reports of such cross-border fire.
"(I) certainly haven't had any recent reports of any cross-border firing at those sites up there in our area of responsibility. We'd had a couple in the past, but they've been investigated and we were unable to determine where the rounds came from," he said.
Copyright 2018 The Associated Press. All rights reserved. This material may not be published, broadcast, rewritten or redistributed. We strive to uphold our values for every story published.