Along the Douglas-Jefferson county line, tucked behind dense forest, is a piece of Kansas land barely changed since wagon trains crossed the prairie in the 1800s.
It's not the five species of short grass usually found on today's incarnations of the range.
Instead, 200 species of plants - some towering overhead - are packed densely on 10 acres. Box turtles lumber through the grasses, and butterflies flutter about.
Jerry deNoyelles thinks it should stay that way.
"It's a snapshot," said the associate director of the Kansas Biological Survey. "It's a little piece of history."
DeNoyelles and his colleagues are working to raise $500,000 to purchase 160 acres near the pristine prairie.
The land, which a private owner has offered to sell, would serve as a buffer so private development can't encroach on the prairie land KU owns. It also would serve as a nature park, with hiking trails, kiosks with wildlife and botanical information and space for public programs to teach subjects such as land management and bird-watching.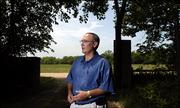 "We want to create a greater awareness of research and a greater appreciation for our natural heritage," deNoylles said.
KU already owns 1,800 acres in its Field Station and Ecological Reserves, northeast of the Lawrence Municipal Airport. About 70 faculty members currently have projects at the site, researching the control of invasive plant species, wildlife preservation and the effects of pharmaceuticals on the environment.
The area is also home to the Fitch Natural History Reserve, which has 2.2 miles of nature trails and natural prairie, which was purchased with money donated by John D. Rockefeller.
Ed Martinko, Kansas Biological Survey director, said only 1 percent of Douglas County's original prairie remains. And with cities expanding, those acres may be at risk in the future.
The Rockefeller prairie, as it is called, is one of four known places in the world where two federally protected plant species - the western prairie fringed orchid and Mead's milkweed - are found together.
Martinko said allowing housing developments near the prairie could create an increase in dust, the possibility of more people entering the prairie and the introduction of invasive species.
"Some of the problems are pretty subtle, too," said Scott Campbell, a research associate with the survey. "If there's suddenly a bunch of houses across the fence from the prairie, you have the introduction of non-native species like cool-season grasses, such as fescue and brome, or dandelions and weeds, or pesticides. The list goes on and on."
So far, KU has raised about $250,000 toward its $500,000 goal. The survey has purchased 40 acres and is close to purchasing another 40 acres.
The remaining money would purchase the remaining 80 acres and allow KU to build trails and displays. It also would allow KU to build wetland and prairie demonstration sites.
Martinko said KU would like to raise the money in the next year, with completion of the projects on the site in the next two years.
"I kind of think of it as a doorstop for our Ecological Reserves," Martinko said. "We're extremely excited about this whole thing. We think it's going to be a great thing to do."
Copyright 2018 The Lawrence Journal-World. All rights reserved. This material may not be published, broadcast, rewritten or redistributed. We strive to uphold our values for every story published.