The Soft Rockers kept rocking all the way to a shutout victory in their game against the Diamonds in a Lawrence Girls Fast Pitch Assn. 10-U game on July 12 at Lawrence High School.
The Rockers scored five runs in the first inning and at least a run in every other inning of the game, using solid pitching and defense to come away with a 10-0 win.
It was the stellar performances on the mound that the Rockers' coaching staff was happiest about.
"Pitching, pitching, pitching," Rockers coach Chris Eagle said. "We spent all season trying to develop pitching."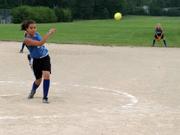 The Rockers tried out two new pitchers this game, Jazzie Stewart and Megan Eagle, and both proved to be up to the challenge.
In fact, the Rockers' hurlers may have thrown off the Diamonds, as each team's coach in the 10-U league often does a fair amount of the pitching since they are called in after the fourth ball. Because coaches pitch to their own players, they usually try to make their pitches as easy to hit as possible, whereas the player pitchers are going for outs.
"We need to work on hitting the pitcher and not waiting for the coach," Diamonds coach Bonnie Mills said.
After the Rockers' big first inning, the Diamonds battled back, allowing just one run in the second inning. Sami Buffalomeat had a nice play at first base, taking a ground ball to the bag herself for the out.
Buffalomeat was robbed a few innings later herself when she smashed a line drive right at Rockers second baseman Regan Kahler. Kahler held on for the out and was greeted by a mob of smiling teammates when she returned to the dugout still holding the ball.
It was the first big play she'd made with her new glove, a glove that has some history to it, her mother Denise Kahler explained.
After losing her glove, Kahler's grandmother bought her a new glove, but with a few conditions.
"She had to work it off through gardening and household chores," said the elder Kahler. "Now that she's had to put sweat equity into her mitt, she watches it like a hawk now."
Jackie Garcia and Nikki Carmody also scored two runs apiece for the Soft Rockers in the victory.
Despite the setback, Mills was happy with how the Diamonds have performed this season.
"We are improving every game," she said. "We won on Sunday and Monday, and I don't know if it's playing three games a week or what, but we were a little flat tonight."
Copyright 2018 The Lawrence Journal-World. All rights reserved. This material may not be published, broadcast, rewritten or redistributed. We strive to uphold our values for every story published.