Cancun, Mexico — Hurricane Emily lashed the Yucatan Peninsula on Sunday, hours after thousands of jittery tourists streamed out of their waterfront hotels and fled inland to shelter in schools and gymnasiums.
The Category 4 storm caused heavy flooding that swept four people to their deaths in Jamaica on Saturday. In Mexico, it downed signs, toppled trees and whipped white sands from the beaches in Cancun.
Power outages were reported in Cancun and in Playa del Carmen, a resort town south of Cancun, as well as on the islands of Cozumel and las Mujeres.
Emily's winds decreased from 145 mph to 135 mph as it bore down on the Mexican coastline Sunday evening. Forecasters say it will likely weaken further as it heads across the peninsula and enters the Gulf of Mexico.
Two people also were killed in a helicopter crash in the Gulf of Mexico as more than 15,500 workers were evacuated from offshore oil platforms, raising to seven the number of people killed in the second major hurricane of the Atlantic season.
Emily was likely to make landfall again on Wednesday anywhere from northeastern Mexico to southern Texas, said Jack Beven, a hurricane specialist at the National Hurricane Center in Miami. He cautioned it was too early to make a precise prediction.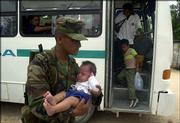 In Cancun, hundreds of buses moved more than 25,000 tourists, many clutching pillows, to temporary shelters, part of the nearly 60,000 people being evacuated from resort towns like Tulum and Playa de Carmen.
Cancun's airport closed Sunday afternoon after thousands lined up at ticket counters, trying to get flights out before the storm hit.
"We're not going to sleep tonight," Cancun Mayor Francisco Alor said.
State oil company Pemex removed the last few hundred workers from oil platforms on the Gulf of Mexico. Strong winds downed a helicopter participating in the evacuation on Saturday night, killing a pilot and co-pilot, the company said.
The platform evacuations closed 63 wells and halting the production of 480,000 barrels of oil per day.
Copyright 2018 The Associated Press. All rights reserved. This material may not be published, broadcast, rewritten or redistributed. We strive to uphold our values for every story published.