St. Andrews Scotland — Brad Faxon knew what the reaction would be.
Why would an American golfer fly eight hours across the Atlantic to play two rounds of golf on some obscure Scottish links for a shot - make that a longshot - at qualifying for the British Open?
"I have a lot of friends that were like, 'You're going over there to qualify?' With raised eyebrows," Faxon said. "And part of them were saying, 'You're nuts."'
Turns out, Faxon wasn't so crazy.
Last weekend, he claimed one of only three spots that were available in his 96-player qualifier. That was reason enough to celebrate, but Faxon didn't stop there.
On Friday, he posted one of the best rounds of the day on the Old Course, a 66 that sent him to the weekend in a seven-way tie for third and five strokes behind leader Tiger Woods.
He's also getting plenty of cheers in Scotland. The Brits are showing their appreciation for an American who went out of his way to play in the homeland of golf.
"I've had a lot of people say things about coming over here, how impressed people were by that," he said. "I've told people from the beginning that I'm not doing it to impress anybody. I'm not trying to win over anybody. I want to play the Open. And that was my only choice."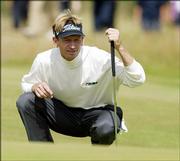 Faxon always has relied on his putter to score, and it was no different Friday when he used it to birdie five holes on the front side. Another two-putt birdie from off the green at 18 closed out his round.
Faxon remembers watching back home when Jack Nicklaus won for the second time at St. Andrews in 1978, wearing that famed navy blue argyle sweater. "I've got two of them," Faxon said.
He was a big fan of Tom Watson during his dominating run in the 1970s and '80s, wearing that "little woolen cap ... with the pompon on it."
"I love coming over here," Faxon said.
Even though it doesn't always work out. Five years ago, he flew to Scotland in a failed attempt to qualify for St. Andrews, then flew right back home to successfully defend his title at the B.C. Open.
Faxon has struggled much of the year, missing the cut in eight of his first 16 tournaments with only one top-10 finish. And he couldn't take part in the U.S. qualifier for the British Open because it conflicted with a charity event he runs with fellow PGA Tour golfer Billy Andrade.
Notorious for tinkering with his swing, Faxon apparently got it right at just the right time. He tied for third at the Barclays Classic, his last tournament before the Open.
"I've played some of my worst golf in my career early on this year," Faxon said. "I was experimenting with too much stuff, as I've been known to do. But in the last couple of months, I've played more consistently."
Copyright 2018 The Associated Press. All rights reserved. This material may not be published, broadcast, rewritten or redistributed. We strive to uphold our values for every story published.