Two months ago, 76-year-old Wilma Jeffrey could barely move.
"I fell," she said, seated in a corner chair in her tiny, seventh-floor apartment in Babcock Place, 1700 Mass.
"The phone rang when I was in the kitchen and when I went to answer it, my feet got tangled up in the tubing there on my oxygen tank and I went down," Jeffrey said.
She broke her nose, wrist and shoulder.
Jeffrey, who is diabetic, spent the next two weeks in Lawrence Memorial Hospital, followed by two weeks at Tonganoxie Nursing Center.
On May 25, she returned to Babcock Place, where she's recovering from her injuries.
"I looked like a raccoon," she said. "I had these two big black eyes."
Jeffrey lives on Social Security. If she had stayed in the nursing home, she would have been eligible for Medicaid, costing taxpayers about $3,500 a month. She said she would have been miserable, too.
"I don't want to go back. No way," she said.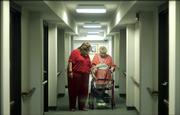 Jeffrey's return to her apartment was made possible by Rex Ellebracht, a case manager with Jayhawk Area Agency on Aging. He helped Jeffrey sort through the paperwork that comes with applying for services aimed at helping senior citizens maintain their independence.
"My job is to help," Ellebracht said.
He determined Jeffrey was eligible for 25 hours per week of paid attendant care. The attendant costs $8.50 an hour. As Jeffrey improves, the hours will be reduced.
"I couldn't make it without them," Jeffrey said of the attendants. "When I first got here, I couldn't do anything for myself. I could barely move."
Jeffrey's granddaughter, Amy Johnson, is her primary caregiver.
"I'm a PCA - professional care attendant - at Independence Inc.," Johnson said. "I do this for a lot of people."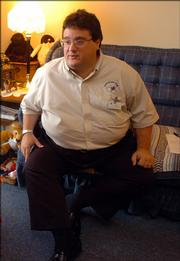 It's not unusual, Ellebracht said, for family members to serve as paid caregivers.
"A lot of times it's the arrangement that the (service recipient) is most comfortable with," he said. "It also might be what's the most practical, depending on the situation."
Now, Jeffrey's recovery is costing taxpayers about $250 a month instead of the $3,500 per month had she stayed in the nursing home.
Jeffrey's situation is not unique. At a meeting Thursday with elected officials, Jayhawk AAA development and communications manager Annette Thornburgh noted that 175 Douglas County residents receive similar in-home services.
"Keeping seniors in their surroundings of choice is less expensive, and it's the right thing to do," Thornburgh said.
She asked the group - Douglas County commissioners Bob Johnson and Charles Jones, Lawrence Mayor Boog Highberger, State Sen. Marci Francisco, D-Lawrence - to realize that funding is not keeping pace with the demand for services.
Funding for the state's Senior Care Act - about $6.5 million annually - has been flat for three years.
"I'm afraid there aren't a lot of easy answers," Thornburgh said.
Copyright 2018 The Lawrence Journal-World. All rights reserved. This material may not be published, broadcast, rewritten or redistributed. We strive to uphold our values for every story published.