Washington — President Bush's aides threw up a wall Monday when questioned about revelations that White House Deputy Chief of Staff Karl Rove had discussed the role of CIA official Valerie Plame with a reporter despite past White House assertions that he was not involved in her unmasking.
Engulfed by questions at two combative briefings, White House press secretary Scott McClellan cited the continuing criminal investigation to say that he would not discuss conversations Rove had with a reporter about Plame before her name was published, or say whether Bush's pledge to fire anyone involved in leaking classified information still stands.
"No one wants to get to the bottom of it more than the president of the United States," McClellan said, echoing his two-year-old position on the case. "And I think the way to be most helpful is to not get into commenting on it while it is an ongoing investigation."
Democrats, emboldened by having the White House on the defensive, began a campaign to pressure Rove to give up his security clearances, answer questions before Congress and even resign.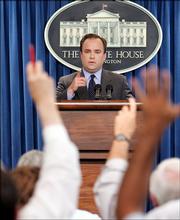 Whether a crime occurred remains the focus of special prosecutor Patrick J. Fitzgerald, but the latest revelations also leave White House credibility at stake, given past statements by the president, McClellan and others. Over the weekend, Newsweek reported that Time magazine reporter Matthew Cooper, in an internal e-mail from July 2003, cited Rove as saying that administration critic Joseph C. Wilson IV, a former ambassador, had gone to Niger on a fact-finding trip involving Iraq's nuclear weapons programs at the behest of his wife. At the same time, according to Cooper's account, Rove also noted that she worked for the CIA on issues of weapons of mass destruction.
The e-mail did not say that Rove identified Plame by name, and Rove has maintained from the beginning that he neither knew her name nor leaked it to anyone. Columnist Robert D. Novak first reported Plame's identity in July 2003.
It was the issue of credibility, more than of criminal culpability, that produced some of the most aggressive questioning at a White House briefing in recent memory Monday - but no answers.
Copyright 2018 The Lawrence Journal-World. All rights reserved. This material may not be published, broadcast, rewritten or redistributed. We strive to uphold our values for every story published.