Joliet, Ill. — The roar from the crowd told the story after Sunday's NASCAR Nextel Cup race at Chicagoland Speedway: Dale Earnhardt Jr. is back.
The fan favorite finally appears to have broken out of a nearly season-long slump.
A sellout crowd of about 100,000 at the suburban Chicago track was howling its approval as the jubilant Earnhardt celebrated his first victory of the season by smoking the tires of his No. 8 Chevrolet and hugging crew members in the infield grass.
"I was worried I was going to go winless this year," the relieved Earnhardt said after taking the 16th victory of his career and first since November in Phoenix. "Now, let's go out and do it again, win some more."
To get this victory, "Little E" and his team had to beat dominating Matt Kenseth with late-race strategy. Kenseth led 176 of the 267 laps on the 11â2-mile oval, but wound up second after choosing to change four tires and falling behind on his final pit stop in the USG Sheetrock 400.
"We obviously didn't have the best car today," Earnhardt said. "Matt Kenseth had the best car, hands down."
But this turned out to be Junior's day.
Since opening the season with a third-place finish in the Daytona 500, Earnhardt has had a mostly miserable season and little to smile about until he turned in a third-place effort last week in the Pepsi 400 at Daytona. He started 25th Sunday and spent most of the day hovering near the back of the top 10.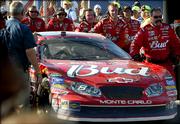 On lap 216, during a caution period, Earnhardt's crew made a lightning-fast, four-tire stop, moving their driver from eighth to third, just behind Kenseth and Stewart.
He fell to fourth after the restart, losing a spot to Greg Biffle. But, when the last of 10 caution flags waved on lap 249 after Mike Bliss and Jeff Gordon crashed, all the leaders got a last chance to pit on a day when right-side tires were blistering and causing numerous blowouts and crashes.
Scott Wimmer stayed on the track and took the lead, while Earnhardt and several other drivers took only two tires and moved ahead of Kenseth and Tony Stewart, who took the time to put on four tires after coming into the pits first and second.
The green flag came out on lap 255, and it took Earnhardt three laps to get past Wimmer, who then faded quickly. Meanwhile, Kenseth charged toward the front, grabbing second place from Brian Vickers on lap 261.
But Kenseth couldn't catch Earnhardt, finishing 0.291-seconds - about five car-lengths - back.
"I still thought he would catch me and beat us on the last lap or with two to go," Earnhardt said. "But there were two or three laps when he didn't catch up much on us, and I just drove it as fast as I could, and it was enough."
Earnhardt crew chief Steve Hmiel made the two-tire calls on the last two stops.
"It was just one of those no-brainer decisions," Hmiel said. "Junior just got up on the wheel like I know he can and he won the race."
Jimmie Johnson, the series points leader, came back from a lap down to finish third, followed by Vickers and Stewart.
"It's been a long time coming, man," said Earnhardt. "It's a lot of emotion, more than I can handle right now. For these guys, all the darts they've had thrown at them this year. It's just awesome.
"I thought we had a top-10, maybe a top-five car," he added. "My guys on pit road won the race for me. Got me out front with two tires."
Kenseth, who has not won since March 2004 at Las Vegas, was bitterly disappointed.
"Our car was awesome," he said. "I'm trying to be a gracious loser, but it's a tough one."
Biffle, second in the season standings, finished 11th Sunday and fell from 73 to 108 points behind Johnson. The victory moved Earnhardt up to 13th place, 115 points behind 10th-place Kurt Busch and 491 points behind Johnson.
The top 10 drivers and any others within 400 points of the leader following the 26th race of the season will be eligible to race for the series championship over the final 10 events.
Copyright 2018 The Associated Press. All rights reserved. This material may not be published, broadcast, rewritten or redistributed. We strive to uphold our values for every story published.