Soldiers headed for war in Iraq are tearing up the grass at Ft. Polk, La.
And that became a good thing for Haskell Indian Nations University.
Late last year, Bill Welton, a natural resources instructor at the school, and about a dozen students began work on a U.S. Department of Defense grant aimed at figuring out how to best restore the grasslands at Fort Polk.
"Fort Polk is a major training location for soldiers headed for Iraq, and all the training that's been going on is beating up the land pretty bad," Welton said. "Eventually, there will have to be some bio-remediation."
The grant will provide Haskell $100,000 over two years.
Currently, Welton's students are quantifying how switchgrass varieties react to different growing conditions.
"There are about 50 different strains of switchgrass," Welton said.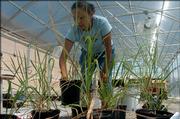 Incredibly hardy, switchgrass is common throughout the Great Plains. It's one of four grass groups that define the tall-grass prairie. The others are big bluestem, little bluestem and Indian grass.
Welton said his students had little trouble finding switchgrass at the Haskell and Baker wetlands.
A few dozen varieties are growing in and around a new greenhouse behind Tam-I-Nend Hall on the Haskell campus.
Delinda Pushetonequa, a Haskell senior majoring in American Indian Studies, spent much of Thursday morning counting leaf sprouts and measuring growth.
"They're growing faster in the greenhouse than they are outside because the soil outside hasn't warmed up enough yet," said Pushetonequa, a member of the Meshkwaki tribe. "The soil here is warmer."
Pushetonequa said students hope to eventually grow or harvest enough switchgrass to build a cone-shaped, thatch house like those perfected by the Caddo tribe.
"It takes about two acres of switchgrass to build a house," Welton said.
Plans also call for Haskell students to study which varieties of switchgrass make the best insulation and, when burned, generate the most heat.
Nationally, several studies are exploring ways to use switchgrass to fuel power plants.
"It's an amazing plant," Pushetonequa said.
New greenhouse to be dedicated today
Haskell Indian Nations University will host a dedication ceremony at 11:30 a.m. today at its new greenhouse behind Tam-I-Nend Hall. The greenhouse has been named in honor of Eric Allen, a longtime Haskell student who died two years ago after suffering a stroke. Well-known for his love of the outdoors, Allen was the son of Virgil and Ellen Allen. He was 33. Ellen Allen is director of admissions at Haskell. Virgil Allen is facilities director. "This is such an honor for us," Ellen Allen said. "It's something we'll always be proud of." Tam-I-Nend Hall is in the southeast corner of the Haskell campus. The ceremony will include lunch.
Copyright 2018 The Lawrence Journal-World. All rights reserved. This material may not be published, broadcast, rewritten or redistributed. We strive to uphold our values for every story published.