Washington — The strain of bird flu responsible for the deaths of tens of millions of chickens and 54 people in east Asia over the past two years is now circulating in long-distance migratory birds, potentially opening a way for the deadly virus to reach India, Australia and Europe.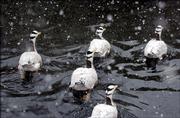 That is the conclusion of two research teams whose findings were rushed into print by the rival journals Science and Nature Wednesday.
Spread of the virus beyond its current home in China and neighboring countries could cause billions of dollars in losses to poultry farmers around the world. It could also give influenza A/H5N1 - the virus's formal name - further opportunity to adapt to human as well as avian hosts, a development that theoretically could lead to a global flu epidemic.
Until now, the H5N1 virus has chiefly attacked chickens and ducks in farms and markets. It also killed a small number of birds in two Hong Kong nature parks in late 2002, and since then has been found sporadically in hawks, herons and swans. Those birds presumably acquired it from direct contact with poultry.
Now, it appears the virus is being transmitted among wild birds that have had no known contact with domesticated birds.
"It (had) been difficult to tell whether the true migrating birds had been infected by this terrible virus. This leaves no doubt in my mind," said Robert Webster, a flu virologist who helped analyze virus samples collected in western China.
Copyright 2018 The Lawrence Journal-World. All rights reserved. This material may not be published, broadcast, rewritten or redistributed. We strive to uphold our values for every story published.