The No Names had struggled all season to come up with a name.
They decided Thursday to make their namelessness a part of their identity, coming up with their new moniker on the spot when they faced off against the Sluggers in a Rec Softball league matchup at Youth Sports Inc.
They couldn't quite score enough runs to handle the hard-hitting Sluggers, though, who put together big first and second innings before eking out a 12-11 victory.
According to the Sluggers coaches, their team has been steadily improving since the season began.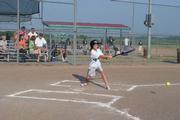 "They're making a lot of progress," said coach Kathy Mattan. "They actually turned a double play a few weeks ago."
It was the No Names who got on the board first when Montana Hackenbury scored a run in the first inning.
Kathleen Nesbitt-Daly, Emily Ortiz, Kara Poulson, Alexis Mountain and Katie Chamberlain all scored runs in the bottom of the frame to put the Sluggers up 5-1.
After Allix Ice scored a run for the No Names in the top of the second, the Sluggers scored five runs in the bottom of the frame. Ortiz singled in the inning, driving in London Koehn and Alyssa Rabiola.
The No Names battled back in the third inning, led by Meagan Roberts who tripled to rightfield and scored a run. Abby Schletzbaum and Ice also singled and scored. Sluggers second baseman Chamberlain made a nice play in the inning, tagging out Maddie York as she was running to second base.
In the bottom of the inning, the No Names put together a solid defensive effort. Pitcher Gillian March fielded a ground ball and threw to first baseman Mountain for the out. Emma Trabard then stepped on third base for a force out, the second of the inning.
In the top of the fourth inning, Sluggers pitcher Morgan Mattan narrowly missed catching a pop fly, but recovered in time to throw to Chamberlain at first base for the final out of the inning.
The No Names had a big fifth inning with York, Baylee Owen, Roberts, Ice and March all crossing the plate to reach the five-run-per-inning limit.
This time the league rules worked against the team that entered the day with no name, and they weren't able to have a shot at overtaking the Sluggers.
Still, everyone was happy with the well-played and exciting game.
No Names coach Paul Schletzbaum was happy with his team's strong finish.
"We came along fine towards the end," he said. "I think the heat got to us early but not late."
Copyright 2018 The Lawrence Journal-World. All rights reserved. This material may not be published, broadcast, rewritten or redistributed. We strive to uphold our values for every story published.