When Jae Chang heard last week that a military helicopter had crashed in Afghanistan, he didn't think about his cousin being onboard.
"I had no idea. None of us did," Chang, an assistant professor with Kansas University's School of Architecture, said Tuesday.
Chang said he learned Thursday that his cousin, Petty Officer 2nd Class James Suh, 28, of Deerfield Beach, Fla., was one of eight Navy SEALs killed in the crash along with eight Army soldiers. They were part of a rescue team being flown into the mountains of eastern Afghanistan near the Pakistani border to assist another team of SEALs who were under attack. Military officials have said the helicopter may have been shot down.
Chang said he and his cousin spent their early elementary school years in Chicago but that later their families went separate ways. Chang moved to California and Suh moved to Florida. They kept in touch or saw each other every couple of years, Chang said.
The last time Chang saw his cousin was in March in California, just before Suh went to Afghanistan. Suh's spirits were high, Chang said.
"He was always happy," Chang said. "You never saw him down."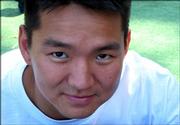 Suh kept in touch with family members by e-mail and phone calls, but he never went into detail about what he was doing, Chang said.
"A lot of that is kept hush-hush, so even in the family we don't hear much about it," Chang said. "They didn't really divulge much information."
Suh's body and those of others killed in the incident were flown to Dover, Del., and then on to Hawaii, where his unit was based at Pearl Harbor. A military service will be conducted there Monday, Chang said. A family funeral service will be conducted in two or three weeks at Forest Lawn Cemetery in Hollywood Hills, Calif. Chang said he planned to attend.
Suh was a star athlete on his high school swimming and tennis teams. Chang said he wasn't surprised that Suh joined the Navy and became a SEAL, an elite unit that is part of the military's special forces.
"It was something he really wanted to do for quite some time," Chang said.
Copyright 2018 The Lawrence Journal-World. All rights reserved. This material may not be published, broadcast, rewritten or redistributed. We strive to uphold our values for every story published.