Washington — Condoleezza Rice worked the phones on her first day on the job as America's top diplomat Thursday, reaching out to European allies and partners in the war on terrorism and echoing President Bush's inaugural charge to promote liberty across the globe.
"The president has set forth a really bold agenda for American foreign policy," Rice said in a brief address to State Department employees who applauded as she entered the lobby. "I can't think of a better call than to say that America will stand for freedom and for liberty, that America will stand with those who want their aspirations met for liberty and freedom."
Among dozens of phone calls with foreign ministers and heads of government, Rice spoke Thursday with Pakistan's President Pervez Musharraf, Russian Foreign Minister Sergey Lavrov and Italian Foreign Minister Gianfranco Fini.
Rice has a heavy task to rebuild European and other alliances worn thin by international opposition to the U.S.-led war in Iraq, and to help guide Middle East peace efforts after the death of Palestinian leader Yasser Arafat. The war, which has claimed the lives of more than 1,400 U.S. troops, plus looming diplomatic and security problems in Iran and North Korea also top Rice's agenda.
Rice will travel quickly to the Middle East and Europe, the State Department said Thursday. The eight-day trip begins next week, ahead of Bush's own planned fence-mending trip to Europe later in February.
Secretary Rice and her designated deputy, Robert Zoellick, plan to visit all NATO capitals in the next few months, starting with this trip to Belgium, Britain, France, Germany, Italy, Luxembourg, Poland and Turkey, State Department spokesman Richard Boucher said. He gave no precise details or dates of each stop.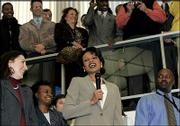 In France, Rice plans to give her first major speech as secretary of state. Boucher said Rice would discuss NATO and separate European government help for training Iraqi security forces.
As part of the same trip, Rice will meet with leaders on both sides of the Israeli-Palestinian conflict in Israel and the West Bank, Boucher said.
Foreign travel will probably take much of Rice's time for her first year or so in office, although contacts from her last job mean she needs fewer introductions to international leaders than many new secretaries of state.
Bush was to attend Rice's ceremonial swearing-in today.
Copyright 2018 The Associated Press. All rights reserved. This material may not be published, broadcast, rewritten or redistributed. We strive to uphold our values for every story published.