Marilyn Bittenbender credits two women for her accomplishments in the professional and community world: her mother and the late Barbara Reavis, former director of the United Way of Douglas County.
"My mother always worked -- she worked in business, which was very unusual for that era," said Bittenbender, 56, a senior vice president at Lawrence's Grubb & Ellis/The Winbury Group. "I learned the value of an education, hard work and never giving up."
Bittenbender is this year's recipient of the Athena Award, sponsored by the Lawrence Chamber of Commerce and Crown Chevrolet-Oldsmobile-Toyota and presented yearly by Crown Chevrolet owner Miles Schnaer. The award recognizes individuals for their professional achievement and community service and who serve as mentors to other female professionals.
"Marilyn certainly fills all of those shoes," said Cathy Lewis, the chamber's vice president for membership. "She's one of those women who sets a perfect example to other women and professionals."
Bittenbender's past commitments include president of the United Way board, chairwoman of United Way drive and chairwoman of the chamber of commerce
She serves on the board of the Bert Nash Community Mental Health Center and on two committees of ECO2, a task force aimed at combining green space with industrial areas for future development.
"Somehow once you become a volunteer, someone else will give you an opportunity to volunteer in another way," she said. "It just keeps going."
Bittenbender became associated with Bert Nash board members about nine years ago when she identified parcels of land for a housing project. During her years on the board, Bittenbender said one of the greatest accomplishments of the center was the implementation of Working to Recognize Alternative Possibilities. Mental health professionals with the program work in public schools with students on a variety of issues.
"Kids will seek out WRAP workers to talk about everything from the spat with the boyfriend to serious depression and other issues that teenagers deal with today," Bittenbender said. "It has been very, very successful."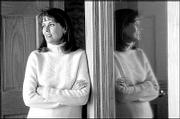 Bittenbender also played a large role in starting ECO2. She said she discussed the idea with then-Mayor Jim Henry, and Henry brought the program to life.
Bittenbender, who lives in Lawrence with husband and business partner Kelvin Heck, said all people have a responsibility to improve their communities through volunteering and other activities.
"As we grow, it becomes more important to find ways to stay connected," she said. "When you're not, communities suffer the way people suffer from lack of attention."
Awards like the Athena Award are necessary, Bittenbender said, to remind women of how far they have come and where they need to be in the professional world. She said issues such as equal pay and harassment in the workplace still face women today, although not to the degree they once did.
"Awards and programs that acknowledge this are a reminder of our history and a promise for our future," she said.
Copyright 2018 The Lawrence Journal-World. All rights reserved. This material may not be published, broadcast, rewritten or redistributed. We strive to uphold our values for every story published.