Baldwin — Not often in a rivalry as intense as the one between Ottawa and Baldwin high schools will one player almost single-handedly push past the opponent.
But Monday night, Cyclones senior Kelsie Studley proved she would be that kind of standout, stepping up to score 20 points and grab eight rebounds as Ottawa outlasted Baldwin, 44-36, at BHS.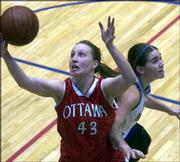 "I got a couple of easy baskets early, and that really put me in the right mood to score," said Studley, who was 8-of-14 from the field. "From there I pretty much just wanted to kick their butts."
And the 6-footer did, too.
Studley scored the Cyclones' first six points, all off of nice over-the-top entry feeds from teammates.
By halftime, Baldwin was struggling just to manage Studley's personal total of 16 points, and Ottawa jumped out to a 27-16 lead.
"Studley dominated us in the first half. We just had no answer for her," said Baldwin coach Eric Toot, whose team fell to 6-2 while Ottawa improved to 8-1 in the make-up matchup of one-loss teams that was snowed out Jan. 4.
But even Cyclones coach Cliff McCullough knew that "the Bulldogs weren't going to just roll over."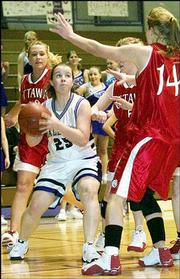 And, as usual in a game between these two teams, Baldwin came right back, opening the second half with an 8-0 run. The Bulldogs were able to slow Studley by putting junior Katelyn Miles on her and pushing Ottawa's guards outside.
Baldwin's Kelsey Verhaeghe, who led the Bulldogs with 12 points, scored on a layin with 4:13 left in the third, which cut Ottawa's lead to 27-24.
"Even at halftime," Toot said, "I knew that we weren't out of the game."
But the Cyclones' ensuing spurt all but ended things for Baldwin.
Ottawa used a 10-2 run by the quarter's end to re-establish its 11-point advantage.
Baldwin, which hoisted 18 three-pointers, closed the gap to 37-33 with a trey two minutes into the fourth. But that would be the closest the Bulldogs would get because Studley closed the game with five straight points.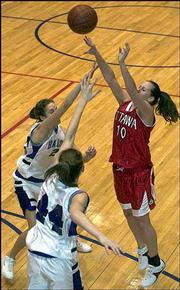 "She was really big for us tonight wasn't she," said a smiling McCullough following the victory. "I think her play tonight was just indicative of how much she's grown up this season.
"Obviously her teammates did a real nice job of getting her the ball near the basket, but she was really in a rhythm once she caught it. That kind of poise and maturity are real signs she's grown up this season."
Studley, however, shrugged off her coach's praise, saying her teammates were the ones setting her up. But she did admit there was more than a little extra motivation because of facing Baldwin.
"I was kind of a little nervous that we wouldn't be as fired up as we would have been if we would have played the game right after Christmas break because we'd spent a lot of time preparing for them," Studley said. "But obviously if you get Baldwin and Ottawa on the same court, no matter the personnel, you're going to have a great game.
"That prove true once again. Luckily we had enough to hold them off."
Copyright 2017 The Lawrence Journal-World. All rights reserved. This material may not be published, broadcast, rewritten or redistributed. We strive to uphold our values for every story published.