Paris — Airbus unveils its flagship A380 today, the plane on which the company is betting its newfound status as the world's leading jet maker as well as the 10 billion euro -- or $13 billion -- cost of developing the "superjumbo."
The largest passenger jet will be revealed during a lavish ceremony at Airbus' headquarters in Toulouse, southern France, attended by European leaders and about 5,000 guests.
Airbus already has taken firm orders for 139 of the $280 million planes, with options on dozens more, and says the program will break even after 250 sales -- an objective it hopes to reach within three years.
"We're already well ahead of our own business plan," said Airbus CEO Noel Forgeard, in an interview published Monday in financial daily La Tribune. Airbus is a subsidiary of European Aeronautic Defence and Space Co.
Airbus trailed Boeing Co. until 2003, when it delivered more planes than its U.S. rival for the first time -- a feat it matched last year, with 320 deliveries to Boeing's 285, and is likely to repeat this year.
Sustaining that lead will depend partly on the outcome of Airbus' audacious bet on strong demand for the new behemoth, with its 262-foot wingspan and a tail that stands as high as a seven-story building.
"It's the plane of the future, a cruise ship in the sky," said John Leahy, Airbus' top salesman, who is credited with helping the company surpass Boeing as the world's biggest-selling aircraft maker. The A380 "will change the way we fly, just like what the (Boeing) 747 did."
High-flying projections
Airbus hopes to sell 750 superjumbos to airlines operating services between the busiest airports, mainly in Asia, which serve as hubs, or stopovers between connecting flights.
Boeing, on the other hand, sees demand for only 400 jets larger than its 747 during the next two decades, as air passengers increasingly gravitate toward direct flights aboard a new generation of smaller, long-range jets like its planned 7E7.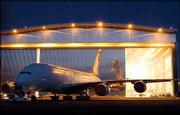 In a three-class cabin layout, the A380 seats 33 percent more passengers than the 747 but offers 49 percent more floor space -- leaving additional room for features such as on-board shops, bars, casinos or even nurseries, which could fundamentally alter the experience of taking a long-haul flight.
How the extra space is used will be left up to the airlines, whose A380 cabin designs have remained closely guarded. In the future, low-cost carriers could operate the A380 with a single economy-class configuration accommodating as many as 800 passengers.
The superjumbo's entry into service next year also poses a challenge to already-stretched airport infrastructure.
Bracing for landings
London's Heathrow airport has said it was spending more $800 million to provide everything from double-decker passenger ramps to enlarged baggage conveyors capable of processing 555 passengers on a single flight.
Other airports are spending billions more on similar improvements, but there is concern that some -- particularly in the United States -- may not be ready in time.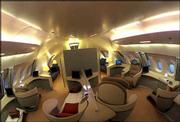 "We've put some friendly pressure on two or three airport authorities that we consider to be a bit behind," Forgeard told La Tribune.
Airbus also has faced pressure of its own.
The A380 is both over budget and slightly overweight.
Forgeard said the plane would weigh about 1 percent heavier than its target of 277 metric tons -- 305 tons -- but stressed that it still would deliver on promised fuel efficiency and other guarantees, saying the internal benchmark deliberately was overambitious.
He said the program's $1.9 billion overspend -- 18 percent of its $10.7 billion overall budget at current exchange rates -- likely would be trimmed by a renewed cost-cutting drive.
Copyright 2018 The Associated Press. All rights reserved. This material may not be published, broadcast, rewritten or redistributed. We strive to uphold our values for every story published.