"I'm stuck on the side of the road."
I'm sure my son hated to call me about a flat tire early on a cold, dreary Saturday morning.
But it's something a lot of us have had to do.
I remember calling my own Dad to bail me out of car trouble on a cold, snowy night.
As they say, what goes around . . .
"OK. I'll meet you there," I told Matt, after we'd arranged for a tow truck to get him to a nearby tire shop. Neither one of us wanted to deal with putting on the spare doughnut tire on such a cold day.
As I drove to meet my son, some of the streets were still ice-packed from last week's ice storm.
The bank's thermometer said it was 18 degrees.
And I wondered if Matt's tire pressure had just dropped from the arctic-like cold weather we'd had in the last week.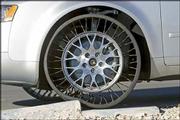 Reinventing the tire
When the weather gets cold, air compresses. And if your tire pressure was low to begin with, you could find yourself with a flat.
But thanks to the auto industry's R&D; folks, cold-weather flats -- or even warm-weather blowouts -- someday might be a thing of the past.
Among the latest innovations is Michelin's new "Tweel," an airless tire-wheel that the company thinks eventually will replace traditional air-filled tires.
Michelin rolled out the "Tweel" this week at Detroit's North American International Auto Show.
Michelin's Tweel is a tire-wheel system that uses flexible spokes instead of air to cushion the ride.
The Tweel's flexible spokes are fused to a flexible rubber wheel.
As the wheel rolls over an uneven surface -- such as a rock, a brick or a sharp object -- the flexible spokes give way.
The surface of the tire actually bends around the object, absorbing the shock and rebounding to its original shape, much more efficiently than a pressurized air tire.
The company says the spokes make handling much better and will make the tires last much longer than air-filled radials.
"Major revolutions in mobility may come along only once in a hundred years," said Terry Gettys, president of Michelin Americas Research and Development Center in Greenville, S.C., in making the announcement. "But a new century has dawned and Tweel has proven its potential to transform mobility. Tweel enables us to reach levels of performance that quite simply aren't possible with today's conventional pneumatic technology."
Slow start
So far, the "Tweel" technology is being used only on two vehicles, both of which are the brainchildren of inventor Dean Kamen.
Those vehicles are the electric-powered, stair-climbing iBOT wheelchairs and the new four-wheeled Segway Centaur, the off-road cousin of the two-wheeled Segway Human Transporter.
Gettys says the Tweels will be tested on such lower-speed, lower-weight vehicles. What is learned will be used to make the Tweel better and even improve traditional pneumatic tires.
Eventually, the Tweel is supposed to be available for passenger cars.
So far, the only car that has been fitted with Tweels is an Audi A4. But it's mainly been for demonstration purposes.
Michelin sees the Tweel as a long-term change. The radial tire, which Michelin invented a half-century ago, is still going to be the standard "for a long time to come," the company says.
Run-flats
While we're waiting for the Tweel, several tires already are available that will keep on rolling when they've been punctured.
One is Michelin's PAX System tire, which allows you to ride on a flat for up to 125 miles at 50 mph. It consists of a tire, a support ring, a wheel and a pressure monitor.
It comes standard on the 2005 Honda Odyssey.
Goodyear has been in the run-flat business since the '90s. It also was showing off its futuristic run-flats at the North American International Auto Show this week. They were fitted on cars ranging from a Corvette to a Mini Cooper.
Goodyear's run-flat tires have reinforced rubber sidewalls that bear the weight of the car -- even when the tire is totally deflated -- keeping the tire on the rim.
But so far, most of the run-flats are available only for certain types of cars. If your car didn't come with them, you're probably going to have to go with a traditional radial.
Full circle
At the tire shop, it didn't take too long for them to pull off Matt's old tire and replace it with a new radial.
When we went up to the counter to take care of the bill, I pulled out a credit card.
"You're paying?" Matt asked.
"I got it," I said.
I remember my own Dad bailing me out a few times when I had tire troubles in college.
I'm sure my son will probably return the favor, sometime down the road -- unless the Tweel takes all the father-son fun out of flats.
Copyright 2017 The Lawrence Journal-World. All rights reserved. This material may not be published, broadcast, rewritten or redistributed. We strive to uphold our values for every story published.