Norman, Okla. — With the help of a new arrival, Oklahoma turned its biggest loss from a year ago into a possible springboard for this season.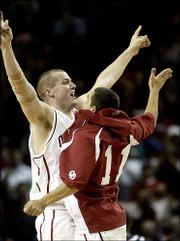 Junior-college transfer Taj Gray had 23 points and 10 rebounds, and the 25th-ranked Sooners held off No. 12 Connecticut, 77-65, Monday night.
The Sooners were ranked No. 6 in the nation last season when they lost 86-59 to then-No. 1 Connecticut. They fell into tailspin that ended with the Sooners out of the rankings and missing the NCAA Tournament for the first time in a decade. They rejoined the Top 25 earlier Monday for the first time since then.
Gray recorded his seventh double-double of the season to make sure the same thing didn't happen again.
"This win this year is a big win for this group," Oklahoma coach Kelvin Sampson said. "This team hasn't had that defining win. That was a good team they beat."
Lawrence McKenzie scored 18 points, Kevin Bookout added 11, and Terrell Everett and Drew Lavender each had 10 for the Sooners (12-2), who beat the defending national champion Huskies (9-3) for the third time in four seasons.
No. 7 Syracuse 70, Notre Dame 60
South Bend, Ind. -- Gerry McNamara had 22 points, lifting Syracuse and making Jim Boeheim the first coach with 300 Big East wins. Josh Pace scored six of his 16 points in a 14-0 run that gave Syracuse (16-1, 3-0) a 57-65 lead. Torin Francis had 15 points and nine rebounds for Notre Dame (10-3, 2-1).
Copyright 2018 The Associated Press. All rights reserved. This material may not be published, broadcast, rewritten or redistributed. We strive to uphold our values for every story published.