After earning a victory in its first basketball game in nearly a month, the Haskell Indian Nations University's women's basketball team was rewarded with another day off.
"They need it. We look awfully tired," said HINU coach Phil Homeratha, whose Fightin' Indians defeated Hillsdale Bible College, 61-50, Saturday night at Coffin Sports Complex.
"It wasn't pretty, and I pretty much knew having that long of a layoff we were going to look sloppy -- but I'll sure take it," said a smiling Homeratha of the win, the fourth straight for his 6-7 squad.
The Indians hadn't played a game since Dec. 11, and they just started practicing again Monday after winter break.
Junior guard Samantha Pete wouldn't use those excuses to explain Haskell's sluggish play.
"We were tired, and kind of seemed out of synch," said Pete, who tallied 14 points. "But I'm glad we got that out of the way, because we can't play like that in our next games coming up."
Indeed, because HINU begins Midlands Collegiate Athletic Conference play Friday when it travels to Bartlesville, Okla., to play Oklahoma Wesleyan.
"We'll take tomorrow off, then get after it hard all next week," Homeratha said. "I think we'll be OK, but the girls better enjoy this last rest day."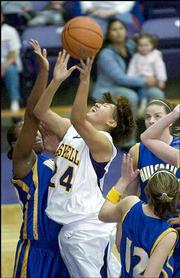 Haskell easily beat Hillsdale. The Indians jumped to an early lead and used intense pressure to force Hillsdale into 32 turnovers.
HINU led 35-22 at the break, but the Indians never could find much of a shooting touch.
"We just didn't shoot the ball well at all tonight, but that probably will come back quickly when we get our legs under us," said Homeratha, whose team made a meager 34 percent of its field goals.
Freshman Maria Stevens led all scorers with 16 points and grabbed a team-best 11 rebounds.
The Indians will play their next three games on the road before returning for a four-game stand at Coffin Complex that begins Jan. 21 against Central College.
Copyright 2017 The Lawrence Journal-World. All rights reserved. This material may not be published, broadcast, rewritten or redistributed. We strive to uphold our values for every story published.