Amy Cunningham has mixed emotions about the garage she and her husband, Chris, have just about finished building.
On the one hand, the 764-square-foot space has meant the couple's Lawrence home is cleaner these days, rather than littered with the projects that Chris, an inveterate tinkerer, is constantly working on.
"It's definitely nice not to have all these car parts in our house. He put together an engine (for his 1972 Porsche 914) in our laundry room before we had a garage," Amy says.
On the other hand, Chris, 31, is spending an awful lot of time out there, doing things like making lamps out of crankshafts and other odd bits taken off cars.
"It's his favorite place to be. From the time he gets up on the weekends, he's out there. I always tell him he's inventing things to do," she says.
Chris, meanwhile, is exultant over the new garage, which features its own cable TV, sink, phone line, stereo, soda machine stocked with five kinds of beer, electric heater -- and, best of all, plenty of room for that Porsche he's been restoring for four years.
"I've always wanted a garage, and I've never had one. That was a real big thing when we were looking at houses. It had to have a garage, or land to build one," says Chris, who designed the space himself.
He is an architect with Michael Treanor Architects, 110 McDonald Drive.
Now -- after an outlay of $20,000 to $25,000 and months of the couple's own labor -- he's got what he wanted.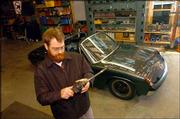 The Cunninghams finally have an attractive, protected place to park their three cars (including the vintage Porsche), instead of a concrete slab behind the house.
And Chris has a place of his own, a retreat -- or, as his wife describes it, a "man den."
His favorite spot is an old dentist's chair standing in one corner of the garage.
"That's my thinkin' chair," he says. "That's where I sit and survey my domain."
No expense spared
The Cunninghams are part of a larger trend that seems to be sweeping the country -- and Lawrence -- these days: people wanting bigger, better-outfitted garages that are much more than just places to park cars.
The trend toward bigger, better-equipped garages that serve as a retreat for men -- and a place to park the ever-growing collection of family vehicles and toys -- has spawned entire books devoted to cool garages.Here are a few that are worth a look:¢ "Garage: Reinventing the Place We Park," by Kira Obolensky (The Taunton Press, 2003), $24.95.¢ "Ultimate Garages," by Phil Berg (Motorbooks International, 2003), $34.95.
The typical two-car garage is beginning to be eclipsed by larger ones featuring bays for three, four or even more autos -- not to mention room for boats, recreational vehicles, mountain bikes, jet skis, etc.).
These garages often house a growing array of amenities, such as cable television, climate-control systems, computer hookups and bathrooms.
Designed to complement the rest of the house, they're showcases for big boys' toys, havens for gearheads, the male equivalent of a stainless steel-clad, gourmet kitchen.
"I've visited a couple like that -- one in Missouri where a person built an attached garage that, for all intents and purposes, is a house. It had a kitchenette, a bathroom, a sealed floor, lighting fixtures," says Darrin Brunk, a product engineer with Amarr Garage Door, 3800 Greenway Circle.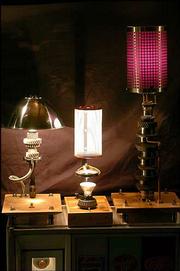 "It's a place where a guy went out and worked on his old cars. It was spotless. I would say it was equivalent to a small house in cost."
The trend toward bigger, well-equipped garages is benefiting business for Scott Weatherwax, president of Free State Doors Inc., 300 Tallgrass Drive.
More of his customers are buying top-of-the-line, carriage house-style garage doors that look old-fashioned and complement a home's architecture. The insulated doors keep garages sealed and warm -- and carry a big price tag. Some of them cost $3,000 to $4,000.
It's part of a movement toward garages turning into clubhouses for men.
"A lot of guys just want their privacy. It used to be the den -- they'd go in there and smoke their pipe and watch TV. Now guys are throwing on the jean jacket and heading out to the garage for a cold beer," Weatherwax says.
Bigger garages needed
Homeowners' desire for more garage space has even started to affect the housing market.
Many homebuyers view one-car garages as obsolete, and even two-car garages aren't always seen as offering enough room to suit a family's needs.
"There is a trend toward people desiring bigger garages. Three-car garages are extremely desirable, and four-car garages are even more desirable. People want as much space as they can get. They've got all these vehicles and toys, and we see these houses where guys are turning their garages into shops," says Gary Nuzum, president and managing broker of Coldwell Banker McGrew Real Estate, 1501 Kasold Drive.
"One of the builders I've worked with, Rod Laing, has been doing side-entry, four-car garages, so when you're looking at the house from the street, you can't see the garages. You can see examples of those in Keystone Court and Foxfire (neighborhoods)."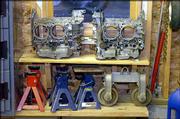 People who are in the market for homes costing $350,000 and more often want three-car garages, according to Nuzum.
Even those homebuyers spending less money than that would probably like to have three-car garages, if bigger lots were available in Lawrence, he says.
Meanwhile, Chris Cunningham is reveling in his new home away from home.
"I'm out here pretty much all day Saturday, Sunday, every evening after work. This is my weekend play place," he says.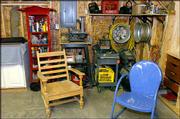 Is there anything his garage lacks?
"I don't have Speedvision," Chris laments, referring to a TV channel -- available with a digital cable package -- offering round-the-clock auto and motorcycle racing coverage.
"We're not getting digital cable," Amy interjects. "Regular cable's fine."
Copyright 2018 The Lawrence Journal-World. All rights reserved. This material may not be published, broadcast, rewritten or redistributed. We strive to uphold our values for every story published.