High above where the Free State High boys swimming and diving team sat Friday, a green and silver banner glistened on the wall of Lawrence High's Knox Natatorium. It was one of the school's 2004 swimming state-championship banners.
"That's just motivation to keep training hard and keep everyone doing their best because we want everyone to do well," said Free State coach Annette McDonald, wearing her team's forest green shirt with "REPEAT" emblazoned on the back.
Now that everyone is back on McDonald's squad, the Firebirds could do just that, as evidenced by winning a quadrangular Friday at LHS. Free State tallied 441 points, followed by Shawnee Mission North (390), LHS (303) and Leavenworth (145).
For the first three events this season, Free State took to the water without the services of its top performers: seniors Anthony Portela, Chris Sellon and Nathan Shriner and sophomore Chase Torgerson. The four had been competing nationally for the their club, the Lawrence Aquahawks, in the Kerr-McGee Pro-Am Elite Meet in Oklahoma City.
Portela said they did well in the event despite competing against several Olympians. He wound up qualifying in the 200 individual medley for the national finals in Orlando, Fla., held after the state competition.
Now it's time to retain the state crown.
"It was hard having to sit out because we want to be with the team," Portela said. "Fortunately, the high school greeted us and welcomed us back. They understood completely."
With its full arsenal in place, five Firebirds managed to qualify to for state in eight events Friday.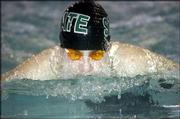 "We'll be able to replace everyone," said Portela about last year's senior class that included current Indiana University swimmer Alex Brunfeldt. "I really think we'll be just as good."
Besides Portela, Sellon, Shriner and Torgerson making the cut in the 200-yard medley relay, 400 freestyle relay and six other individual events collectively, Mitch Moore qualified after winning the 100 breaststroke as a freshman, a fact that impressed his coach. Moore finished with a time of 1:06:63.
"It was just a fun meet because the guys see how they've progressed and set goals for the next time, McDonald said.
LHS had two members qualify for state as well. Freshman Alex Boyer came in third in the 500 freestyle, but still managed to make the cut with a time of 5:18:11. The other Lion to qualify was state regular Nick Leet, a senior, who won Friday's diving event with a score of 248.18.
Lawrence swimming and diving coach Ryan Adams noted that Leet successfully executed the difficult "reverse twister" dive for the first time since last year's state competition.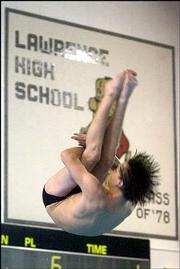 Adams said his team was improving overall. He chose to put his squad on a more rigorous training regimen consisting of more distance logged -- about a 1,000 more yards a day -- with shorter amounts of rest.
"We needed to work on getting in shape," Adams said. "To have the guys swim all four events and swim them well, we needed better conditioning."
LHS senior captain Zach Colwell said his team has "stepped up to the plate really well" when it has come to practice.
"Everything's going really good," said Colwell, who finished second in the 100-yard freestyle and third 50-yard freestyle. "The hard work and persistence is really paying off."
Free State will have its final home quad Thursday. Lawrence will travel to Shawnee Mission Northwest on Tuesday for a triangular also involving Olathe Northwest.
Copyright 2018 The Lawrence Journal-World. All rights reserved. This material may not be published, broadcast, rewritten or redistributed. We strive to uphold our values for every story published.