The Kansas economy rebounded in 2004 -- boosted by abundant fall crops and good cattle markets, higher prices for oil and gas producers and even modest hiring in the state's beleaguered aviation industry.
But in the coming year, the state's two biggest private employers -- Sprint Corp. and Boeing Wichita -- may undergo considerable changes, economists warn.
"As a result there is a significant element of uncertainty and risk in trying to forecast where the economy is going to go next year," said Janet Harrah, director of the Center for Economic Development and Business Research at Wichita State University.
The major economic impact is expected to be the "dampening effect" on consumer and business spending caused by the unknown effects of the potential sale of Boeing Wichita's commercial aircraft operations and Sprint's merger with Nextel, according to the center's Kansas economic outlook report.
The good news is that after two years of job losses, the state's labor market is expected to end 2004 with job growth, CEDBR said. And in 2005, CEDBR forecast Kansas will gain a net 21,100 jobs, or an increase of 1.6 percent statewide.
The economic recovery will be led by growth in the state's service sector -- the jobs in health care, business and professional services and restaurants, Harrah said.
Economists at CEDBR divide the state's economy in four areas, based on population, employment, personal income and retail sales:
l The Kansas City metropolitan area, which accounts for 30 percent of the state's economy, is dealing with the Sprint-Nextel deal.
l The Wichita metro area, which accounts for 21 percent of the state's economy, is nervous about the possible sale of Boeing's commercial aircraft plants.
l Topeka and Lawrence metro areas account for about 10 percent of the economy. Government jobs dominate the Topeka economy, while the state universities affect the Lawrence and Manhattan local economies.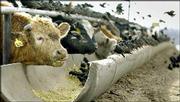 l The rest of the state encompasses 39 percent of the economy. It is dependent on the agriculture and the food-processing industries as well oil and gas production.
Agriculture sector
A year ago, Kansas cattleman Tom Hull returned the big-screen television set he had planned to give his wife that Christmas.
The Beloit cattle producer was afraid he would not be able to pay for the expensive gift after the discovery on Dec. 23, 2003, of the nation's first case of mad cow disease. So the next day, on Christmas Eve, his daughter took it back to the store.
But the bottom did not fall out of the cattle market as Hull and many industry experts had feared. Consumer demand for beef remained strong. Livestock prices stayed at near-record levels.
When Hull sold his cattle three months later, he finally bought his wife, Mary, that big-screen television set.
"We have had pretty good markets for cattle," Hull said. "We made some money, anyway."
The Agriculture Department Economic Research Service last month predicted 2004 net farm income will reach $73.7 billion nationwide, beating the record set in 2003 by nearly 25 percent. It credited two back-to-back years of exceptionally large harvests for major crops and unusually high prices for livestock and milk.
The agency predicted the nation's farmers will pocket an average income of $70,675 per household this year, up 3.2 percent from a year ago.
While Kansas farm income figures are not yet available, the state is well positioned to reap its share of that bounty.
Fall crops through most of Kansas were exceptionally good. Rains finally broke the long-standing drought that had gripped much of the state for four or more years.
Oil industry
Agriculture was not alone in the state's rural prosperity.
Spurred by high crude prices, Kansas oil and gas producers scrambled this year to find enough rigs and workers to drill wells after years of decline in the state's oil industry.
All of the state's 65 active drilling rigs are working full-time, and there would be even more drilling if its owners could find the labor to work in the fields, said David Williams, supervisor of production for the Kansas Corporation Commission's conservation division.
"We are at capacity right now," he said. "I don't expect 2005 to have drilling activity slow down any, as long as we have prices where we are at now."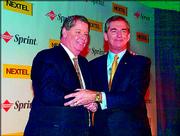 Drilling activities increased 33 percent in Kansas over last year, Williams said. Eastern Kansas is very active drilling coalbed methane wells, while exploration in western Kansas for both gas and oil has increased using new 3D seismic technology to increase production.
In 2002, Kansas had 1,716 drilling permits issued. That grew to 2,626 permits last year. More than 3,500 permits are expected to be issued by the end of 2004, he said.
"Oil and gas is not a large employer anymore. It generates a lot of income for the state. It doesn't generate a lot of jobs compared to what it did 25 years ago," Harrah said.
Aviation sector
Even the state's aviation industry recovered a bit this year as companies recalled some laid-off workers. More than 15,000 workers had lost their jobs in the wake an economy that was slowing even before the Sept. 11, 2001, terrorist attacks hastened the downturn.
Wichita is home to aircraft manufacturing plants for Boeing, Cessna Aircraft, Raytheon Aircraft and Bombardier Aerospace, along with more than 60 aviation subcontractors.
Manufacturing employment in Wichita has declined 22 percent since it peaked at 74,000 jobs in 1998, CEDBR said.
But for 2005, manufacturing employment in the Wichita area has been forecast to increase 2.6 percent for a net gain of 1,500 jobs, CEDBR said.
"There is that pinpoint of light at the end of the long tunnel," said Boeing spokesman Dick Ziegler. "It has been economically depressed. Certainly the signs are there -- if wishing could make it so."
Boeing expects their work force levels to remain stable through 2005 -- unless there is an unexpected swing in the market either way or an impact from the possible sale of the company's commercial operations, Ziegler said.
That uncertainty about the future also dogs the Kansas City area economy with Sprint Corp.'s $35 billion acquisition of Nextel Communications Inc. If approved, the merger would create a company called Sprint Nextel that would be the third-largest wireless business behind Cingular and Verizon.
It was projected to have 55,000 employees, but top officials at both companies have acknowledged layoffs would occur.
Copyright 2018 The Associated Press. All rights reserved. This material may not be published, broadcast, rewritten or redistributed. We strive to uphold our values for every story published.