Vatican City — Ailing Pope John Paul II is under doctor's orders not to talk, but he's breathing on his own and even writing notes and jokes since his tracheotomy surgery, Vatican officials said Friday.
Vatican spokesman Joaquin Navarro-Valls said the head of the Catholic Church, contrary to media reports, had never been on a ventilator and that his cardiovascular system had been ruled healthy.
Navarro-Valls added that the pope had been doing well after being released Feb. 10 from the Gemelli Polyclinic Hospital -- during which time he waved to well-wishers while riding through St. Peter's Square, gave Sunday blessings, met visitors and released a new book -- until he again had trouble breathing Wednesday. Navarro-Valls said Thursday's surgery was elective.
"That is to say it was not an emergency," he said. "This was surgery to ensure adequate ventilation. He is now breathing better. He is relieved and does not need any mechanical ventilation."
Navarro-Valls said officials would know today whether the pope could participate in a Sunday blessing, but added the pope was under orders not to talk for at least several days. He said that didn't mean the pontiff was in bad spirits.
Navarro-Valls said after surgery, the pope wrote as a joke, "What have they done to me?"
Navarro-Valls said the pope, 84, had a good night's sleep after the surgery and awoke with a healthy appetite: He had 10 small biscuits, yogurt and cafe latte for breakfast. Experts said that was a positive sign.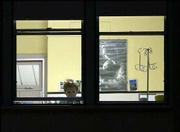 "Well done, I'd say," said Dr. John Henry, a professor of emergency medicine at Imperial College in London. "It shows he's tough. And with the paper that keeps flowing out of the Vatican under his name, it seems he's still sharp. He's not out of the woods, not with Parkinson's. But it's a good sign."
Henry said he hadn't treated the pope, but he's familiar with the effects of a tracheotomy. He said having a breathing tube wasn't necessarily a bad thing and that if the pope lived for some time, the tube might simply become part of what people expect to see when he appears.
"He'd have to cover it when speaking, but he could live with it in, and if it helps with getting air to the lungs, that might be the plan," he said.
Copyright 2018 The Lawrence Journal-World. All rights reserved. This material may not be published, broadcast, rewritten or redistributed. We strive to uphold our values for every story published.