Hallmark Cards Inc. said Tuesday that its net revenues climbed 2 percent last year, helped by a freshened-up line of humorous greetings cards produced in Lawrence.
Hallmark, based in Kansas City, Mo., said its net revenues reached $4.4 billion in 2004, led by gains from its Hallmark International division and Crown Center hotel and retail complex in Kansas City.
Earnings for Hallmark's operating businesses saw a 2 percent decline, following an increase of 15 percent in 2003, the company said.
The company reported "flat" revenues last year for its personal expression group, compared with 2003. The group produces greeting cards, ornaments, stationery, gift wrap and other items.
But within the group, the Shoebox line of cards -- now 18 years old -- benefited from a major redesign that generated double-digit retail sales gains, Hallmark said.
All of Hallmark's Shoebox cards are produced at the company's 650,000-square-foot plant in Lawrence. The plant delivers 1 million to 2 million Shoebox cards a week.
"That's a bright spot," said Kristi Ernsting, a Hallmark spokeswoman.
The Lawrence plant is Hallmark's biggest producer of greeting cards, making 9 million to 13 million a week. The plant also produces ribbons, bows, invitations and stickers.
The plant recently wrapped up production of Stickeroni, a line of kid-oriented stickers set to hit Hallmark stores this spring.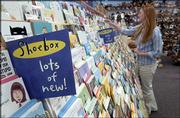 The Lawrence plant ended 2004 with 750 employees, down from 775 a year earlier.
Hallmark's employment in Kansas City, Mo., ended the year at 4,500, down from 5,000 a year earlier. Overall, Hallmark's U.S. operations had 9,900 employees at the end of 2004, down from 10,400 a year earlier.
As a private company, Hallmark is not required to issue quarterly earnings reports or other financial information. Tuesday's report provides guidance by comparing some results on a year-to-year basis.
Included in Tuesday's report:
A 2 percent increase in Hallmark International revenue reflected distribution gains in the United Kingdom and Australia.
A focus on fourth-quarter marketing helped the company's 4,200 Gold Crown stores boost November-December revenues by 3 percent, compared with the same period a year earlier.
Binney & Smith Inc., a Hallmark subsidiary that produces Crayola brand crayons, Silly Putty and other products, "remained steady" by finishing with increased December sales that offset a soft back-to-school season.
Revenues from Hallmark Entertainment, the company's TV-production subsidiary, fell 6 percent from 2003, primarily because of a shift in delivery of a major production from late 2004 into 2005.
Copyright 2018 The Lawrence Journal-World. All rights reserved. This material may not be published, broadcast, rewritten or redistributed. We strive to uphold our values for every story published.