Norman, Okla. — J.R. Giddens used sign language instead of verbalization to point out the reason for Kansas University's 71-63 loss to Oklahoma on Monday night at Noble Center.
"We didn't have any of this tonight, none of it," Giddens, the Jayhawks' sophomore guard said, his index finger tapping his heart.
"We knew they were a physical team. We knew they'd have intensity. We didn't come out and match their intensity the first half," added Giddens, who scored nine points and grabbed seven rebounds while playing 20 miles from his hometown of Oklahoma City.
The Jayhawks came out flat, trailing by as many as 19 points the first half. The team rallied within a point the second half -- had KU won, it would have tied an effort against UCLA in 1995 for biggest comeback in school history -- but ultimately fell short in dropping its third straight game.
"Hey, I think we're a tough team," Giddens said. "We're just going through some things now like a lot of teams do. I wouldn't say our season is over. We lost four games, three in a row.
"We're not done. In fact, tell everybody right now you heard J.R. Giddens say, 'Kansas is not done.'
"Our seniors are good. They will not let us go out like this. We're going to fight, claw and take care of business."
Giddens hit a second-half three to help fuel KU's comeback, but appeared to pull a gaffe when he fouled OU's Terrell Everett on a breakaway layup with 51.9 seconds left.
Point guard Aaron Miles ran up to Giddens, and the two talked for a few seconds. It appeared like an animated conversation at the time, but both indicated it was no big deal.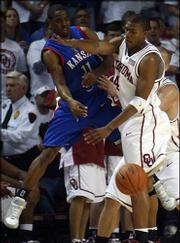 "I just told him, 'Don't give up the three-point play,''' Miles said. "Just talkin' to my teammates.'''
"I love our seniors. I love all our guys. I'd go to war with every one of 'em, every single one. They are family," Giddens said.
KU senior Wayne Simien was asked if it was a highlight to see Giddens bounce back from Saturday's 3-of-16 outing in a loss to Iowa State.
"No, not really," Simien said. "Individual responses to negative situations aren't going to get us wins. It'll have to be as a team. It was a positive response on his part to get back on track."
Copyright 2018 The Lawrence Journal-World. All rights reserved. This material may not be published, broadcast, rewritten or redistributed. We strive to uphold our values for every story published.