Brussels, Belgium — President Bush scolded Russia for backsliding on democracy Monday and urged Mideast allies to take difficult steps for peace, appealing for Europe's help in both troubled areas to "set history on a hopeful course."
Bush opened his discussions with a gesture of reconciliation toward disgruntled allies, hosting an elegant dinner for French President Jacques Chirac, the harshest critic of the U.S. invasion of Iraq.
"I'm looking for a good cowboy," Bush joshed when a reporter asked if relations had improved to the point where Chirac might receive an invitation to the president's Texas ranch. Chirac said U.S.-French relations have been excellent for 200 years and the war had not changed that. They dined on lobster risotto and filet of beef.
Despite the cordial meeting, Bush told Chirac the United States adamantly opposes Europe's plans to lift its 15-year arms embargo against China.
Europe seemed eager for Bush's charm offensive after bitter divisions over global climate control, Iraq and other problems. Dozens of world leaders were hurrying to Brussels for twin summits today at NATO and the European Union. European officials have complained Bush did not listen to them during his first term, and they wanted to see if he has changed.
Previewing two issues on today's agenda, Bush told Syria to get out of Lebanon and demanded that Iran stop its suspected nuclear weapons program. Bush did not rule out using military force in Iran, saying all options remain on the table. But, addressing widespread concerns in Europe that Iran is the next U.S. target after Iraq, Bush said: "Iran is ... different from Iraq. We're in the early stages of diplomacy."
Three days before seeing Vladimir Putin in Slovakia, Bush admonished the Russian leader to "renew a commitment to democracy and the rule of law." Putin has raised alarms in the West by consolidating power, rolling back democratic reforms and curbing press and political freedoms.
Bush said the United States and all European countries "should place democratic reform at the heart of their dialogue with Russia." The president suggested that Moscow's entry in the World Trade Organization could hinge on whether it changes course.
"I've got a good relationship with Vladimir; I intend to keep it that way," Bush told reporters during a photo opportunity with Chirac. "But as well, I intend to remind him that if his interests lie West, that we share values ... and those values are important."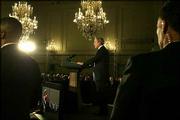 In the keynote address of his five-day trip, Bush signaled that the United States will become more involved in the Mideast to foster growing hopes for peace.
"America and Europe have made a moral commitment: We will not stand by as another generation in the Holy Land grows up in an atmosphere of violence and hopelessness," Bush told an audience of diplomats, business leaders and academics in an opulent ballroom of Brussels' Concert Noble hall.
The president outlined a White House checklist of actions for key players in the Middle East.
Saudi Arabia should give its citizens more freedom, Bush said, and Egypt should expand democracy. Israel should freeze settlement activities and the Palestinians must dismantle terrorist groups and fight corruption, Bush said.
He challenged Palestinian leader Mahmoud Abbas, at a conference in London next month, "to put forward a strategy of reform which can and will gain support from the international community, including financial support. I hope he will seize the moment."
Copyright 2018 The Associated Press. All rights reserved. This material may not be published, broadcast, rewritten or redistributed. We strive to uphold our values for every story published.