Topeka — A battle that could affect the lives of thousands of Kansans in nursing homes and assisted living facilities is being waged before the Legislature.
Advocates for the elderly say House Bill 2241 would shield nursing homes from liability in instances of neglect or abuse, diminishing the care industry's incentive to guard against the problems.
"We believe that the real reason for House Bill 2241 is to hide essential and relevant evidence from a jury," said Ernest Kutzley, advocacy director for AARP Kansas. "It will make it harder for older Kansans and their loved ones in nursing homes to seek redress when they've been injured, neglected or abused."
The proposed legislation would require that long-term care facilities set up what are called risk-management programs, where health care providers would review patient-care practices at the home and try to make improvements.
Advocates for the elderly and disabled say they are OK with that. It's the second part of the bill that has them steamed.
Reports, records, state inspections or analysis done under the risk-management programs would not be allowed to be entered into evidence in the event of a lawsuit against a facility.
"This could be a way of hiding abuse and neglect," said Deanne Bacco, executive director of the Lawrence-based Kansas Advocates for Better Care.
But owners and operators of nursing homes say the bill could help solve a crisis within the industry of exploding costs.
That crisis is partly caused by liability insurance premiums that have increased in some instances tenfold, according to Linda Berndt, executive president of the Kansas Health Care Assn., which represents 200 facilities.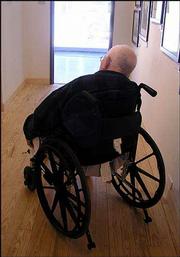 "Nearly 30 percent of all Kansas nursing facilities faced with skyrocketing liability insurance premiums are going 'bare,' or without insurance," Berndt said. "That is not good public policy."
Self-assessment
Some nursing homes say the threat of litigation is driving up the cost of insurance and hindering their efforts to embark on self-critical assessments that would improve patient care.
"It is tough to be a health care provider," said Rodney Whittington, the administrator of the Wheatland Nursing Center in Russell. "It is even tougher when you have to be concerned that the very things you are doing to improve quality of care are the same things that could be used in litigation."
Berndt said the goal of the legislation was to encourage facilities to "drill down" to find improvements but give them some legal protection while doing that.
Insurers have voiced support of the bill, too, blaming plaintiff's attorneys and lawsuits for spiraling nursing home costs.
But advocates for the elderly say if there is a crisis, it's the insurance industry's fault for driving up rates to recover from lower returns on investments.
Aging opposition
The Kansas Department of Aging, which regulates nursing homes, also has problems with the bill.
"What is the bill's purpose?" asked Aging Secretary Pamela Johnson-Betts. "Is it to require good-faith peer review in adult care homes or to protect inspection reports and survey documents from discovery in civil litigation?"
Johnson-Betts said self-critical analysis of review teams should be protected from use in civil litigation. But she added, "the facts about an incident, resident care records, licensing surveys and certification surveys should not be protected."
The measure will be worked on this week in the House Insurance Committee. Rep. Clark Shultz, R-Lindsborg, the committee's chairman, said he wasn't sure whether the bill would be approved.
Meanwhile, Bacco, with Kansas Advocates for Better Care, said the legislation represented a step backward.
A lot of nursing homes in Kansas are working on new, positive ways to improve the care of individual patients, but others are "dragging their heels," she said.
Copyright 2017 The Lawrence Journal-World. All rights reserved. This material may not be published, broadcast, rewritten or redistributed. We strive to uphold our values for every story published.