Mahabalipuram, India — Archaeologists have begun underwater excavations of what is believed to be an ancient city and parts of a temple uncovered by the tsunami off the coast of a centuries-old pilgrimage town.
Three rocky structures with elaborate carvings of animals have emerged near the coastal town of Mahabalipuram, battered by the Dec. 26 Asian tsunami. As the tsunami's waves receded, the force removed sand deposits that had covered the structures, which appear to belong to a port city built in the seventh century, said T. Satyamurthy, a senior archaeologist with the Archaeological Survey of India.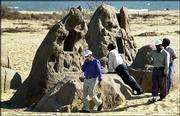 Mahabalipuram is already famous for ancient, intricately carved shore temples that have been declared a World Heritage site and are visited each year by thousands of Hindu pilgrims and tourists. According to descriptions by early British writers, the area was also home to seven pagodas, six of which were submerged by the sea.
The government-run archaeological society and navy divers began underwater excavations of the area Thursday.
"The tsunami has exposed a bas relief which appears to be part of a temple wall or a portion of the ancient port city. Our excavations will throw more light on these," Satyamurthy said.
The 6-foot rocky structures that have emerged in Mahabalipuram, 30 miles south of Madras, include an elaborately carved head of an elephant and a horse in flight. Above the elephant's head is a small square-shaped niche with a carved statue of a deity. Another structure uncovered by the tsunami has a reclining lion sculpted on it.
"These structures could be part of the legendary seven pagodas. With the waters receding and the coastline changing, we expect some more edifices to be exposed," Satyamurthy said.
Copyright 2018 The Associated Press. All rights reserved. This material may not be published, broadcast, rewritten or redistributed. We strive to uphold our values for every story published.