Jurors on Friday inspected photographs of the nicks and bruises found on the hands of a Kansas State University professor charged with stabbing and beating his ex-wife to death.
A detective testified that professor Thomas E. Murray concealed his right hand during a police interview. And two witnesses said they smelled a strange, unexplained odor throughout Murray's home in Manhattan the night that the body of his ex-wife, Carmin D. Ross, was found in Douglas County.
The testimony came on the second day of the trial for Murray, who's charged with first-degree murder in the November 2003 killing at Ross' home northwest of Lawrence. The trial is expected to resume Tuesday with the airing of a nine-hour videotaped statement Murray gave to police.
Key pieces of Friday's testimony:
Ross' best friend, Angela Hayes, and her husband, Rob, testified that they smelled a horrible odor inside Murray's home the night of Nov. 14, the day Ross' body was found. The couple had gone to Murray's home to watch his and Ross' 4-year-old daughter while Murray went to the police department for an interview.
"It wasn't like anything I've ever smelled before," Angela Hayes said. "It was like an incredibly strong smell of rot somehow connected to a chemical cleaner-type smell."
But Brad Schlerf, a Riley County Police detective who was in the home for a few minutes that night, testified that he didn't smell anything unusual.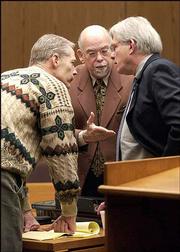 Angela Hayes told jurors Ross grew increasingly unhappy in the final years she was married to Murray. The couple divorced in 2003.
"She felt more and more controlled by Tom," Hayes said. "She would say things like she felt like she was living in a box or living in a cage. ... She said she felt like she was dying inside."
Hayes testified that Ross told her a child-custody mediation session between her and Murray days before the death hadn't gone well and that it was apparent they would have to go into a custody battle.
Hayes testified that Nov. 13, 2003, the morning prosecutors allege Murray drove to Lawrence and killed Ross, he dropped off his daughter, Ciara, at her home at 8:20 a.m., about 25 minutes early.
Riley County Detective Schlerf testified Murray didn't make eye contact during the first 17 minutes of an interview. For the first two hours, he kept his right hand between his legs or covered it with his left hand, Schlerf said.
Eventually, detectives saw that he had small nicks on the hand and a bruise on his right index finger, as well as bruises on the underside of both arms below his wrists.
Schlerf also testified that Murray never asked how Ross died.
Lawrence Police Detective M.T. Brown played a series of messages retrieved from Ross' voice mail, including an old message apparently left by Murray for the couple's daughter, Ciara, before she went out of state to visit her grandparents.
"I miss you so much and I love you" the message says. "When you get back, when you get back, I will see you. You will come live with me again."
Brown also played a series of increasingly worried messages left by Ross' loved ones in the hours before her body was discovered.
Evidence technician Justin Stipanovich of the Lawrence Police Department testified about photos he'd taken of the upper floors of the home, which prosecutors put on to show the home hadn't been ransacked.
Douglas County Undersheriff Ken Massey, then a lieutenant, described what officers did to restrict access to the crime scene.
"You want to make sure the integrity of the crime scene is not compromised," he said. "The scene holds the key to the investigation."
Copyright 2018 The Lawrence Journal-World. All rights reserved. This material may not be published, broadcast, rewritten or redistributed. We strive to uphold our values for every story published.