Riyadh, Saudi Arabia — Abdul Rahman al-Hussein voted for the candidate pledging to build playgrounds. Another man picked the candidate pushing affordable housing. Local concerns held sway as Saudi men cast city council ballots Thursday in the first regular election in their country's history.
Saudis gingerly went through the seven-page ballot card, smiling broadly as they cast their votes and made plans to frame their green voter registration cards. Many said the novel experience was a good first step toward democratic reform in this absolute monarchy -- but should be followed by more.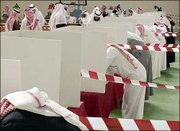 "This is the beginning of a new era. We now know what elections are, and what it means to make your voice heard through proper channels," said Abdul Nasser al-Zahrani, 46, an archaeology professor. "It is the beginning of democracy."
Voting began slowly at 8 a.m., the beginning of the two-day Saudi weekend, but the pace picked up later in the day, especially in lower-income areas. Women were kept away, banned from running in the elections and voting.
More than 1,800 candidates were contesting 127 seats in the capital and surrounding villages, with 640 of them running for seven seats in Riyadh. Two more phases will cover the rest of the country in March and April.
Only half of almost 1,200 councilmen nationwide will be elected. The rest will be appointed. While many see the vote as a modest step, others see it as a remarkable development in a country where any talk of public participation in decision-making once was taboo.
Final results are not expected until today or Saturday.
Copyright 2018 The Associated Press. All rights reserved. This material may not be published, broadcast, rewritten or redistributed. We strive to uphold our values for every story published.