Just 24 hours after suffering a loss to crosstown rival Free State High, the Lawrence High boys bowling team took out its aggression on Olathe North and Oskaloosa on Thursday, and a couple of Lions flirted with perfection in the process.
The Lawrence boys recorded four of the top five individual series scores among the three teams, finishing with a pinfall total of 2,429 -- 303 ahead of Olathe North.
The LHS girls, meanwhile, notched the top three individual marks at the meet and placed first, posting a score of 1,880 at Royal Crest Lanes.
Lawrence's Jeremy Smith had the highest individual score, rolling a 245 in his second game.
The game was just about as close to perfection as anyone got Thursday, with his only blemishes being a spare in the sixth frame and an open frame in the eighth.
"I just kept thinking about the eighth frame," Smith said. "I've struck all the way to the eighth frame before. It was pretty disappointing, but I had an idea it was going to happen. If it would have been in the seventh, I would have been more mad."
Though Smith had the high LHS game Thursday, Shawn Jimboy carried the load for Lawrence with a 677 series -- the highest this year for the Lions. The lowest of Jimboy's three scores was a not-too-shabby 207, while his 243 in the third game included eight strikes.
His final game of the day caught the attention of teammates Tyler Demaline and David Wyatt, who took breaks from their own games to come watch Jimboy throw each ball.
"In that last game, I got an open in the fifth, and then I got a seven and thought, 'Ah, this is going to be a decent game,'" Jimboy said. "It was pretty relaxing. It was pretty good that everyone was there cheering me on."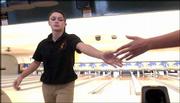 The open and the spare in the fifth and sixth were sandwiched between two four-strike runs for Jimboy.
On the girls' side, Tiffany Demaline and Jessica Wyatt combined to knock down 1,085 of the team's 1,880 pins. Demaline's 193 in the third game was the highest individual girls score recorded, and it helped the Lions breath a little easier. LHS won by nearly 400 pins, compared to Wednesday's narrow 12-pin victory over Free State.
While Demaline knocked down a flurry of strikes, Wyatt was equally impressive with her precision, picking up spare after spare.
"I think we did really well today," Wyatt said. "I got in a groove."
Thursday at Royal Crest LanesBoys Team Scores1. Lawrence 2,429. 2. Olathe North 2,126. 3. Oskaloosa 1,885.Girls Team Scores1. Lawrence, 1,880. 2. Olathe North 1,501, 3. Oskaloosa 1,318.Lawrence Individual ScoresVarsity BoysShawn Jimboy 227-207-243 -- 677, Tyler Demaline 191-215-217 -- 623, Jeremy Smith 153-245-186 -- 584, David Wyatt 168-211-166 -- 545, Mark Mercer 172-176-169 -- 517, Matt Wingert 163-137-153 -- 453.Varsity GirlsTiffany Demaline 180-180-193 -- 553, Jessica Wyatt 179-176-177 -- 532, Ashley Davis 179-93-166 -- 438, Jen Burnside 124-125-108 -- 357, Mallory Hughes-Pfeifer 106-125-104 -- 335, Liz Bodle 106-119-89 -- 314.Junior Varsity BoysDerek Huff 169-112-139 -- 420, Brian Heschmeyer 109-109-119 -- 337, Skyler Workman 124-123-136 -- 383, Justin Fox 129-135-147 -- 411, Daniel Chandra 158-143-125 -- 426, Josh Hinton 131-111-133 -- 375.Junior Varsity GirlsMiriam Cha 93-110-117 -- 320, Richelle Chaney 92-93-119 -- 304, Megan Burton 110-147-134 -- 391.
Copyright 2018 The Lawrence Journal-World. All rights reserved. This material may not be published, broadcast, rewritten or redistributed. We strive to uphold our values for every story published.