Five homes. No duplexes. No apartments.
Only two major commercial projects -- including one for a relocating car business checking in at a whopping $3.5 million -- kept Lawrence's building industry from starting the new year with a fizzle, according to a report from the city's Department of Neighborhood Resources.
Builders, contractors and others took out permits in January for $6.7 million worth of construction, remodeling and related work in Lawrence.
The monthly total came after $30.5 million worth of work was lined up during the last two months of 2004, as builders ended the year by snarfing up more than 100 permits for new homes and 61 permits for new duplexes.
"I think the builders were starved," said Barry Walthall, the city's code enforcement manager.
Now they're hungry again, as builders and the services that depend upon them are searching for land to work on.
Lance Johnson, president of The Peridian Group, said he had grown so frustrated by the relative inactivity of Lawrence's construction market that he was expanding his existing operations in Gardner -- relocating the office to part of a $1.9 million commercial center that Peridian is building.
He's even put his Lawrence office up for sale, in hopes that he can find a smaller, more efficient office in Lawrence now that five to 10 of his 30 employees likely will be relocating to Gardner.
"We're having to shift our focus to other communities," Johnson said. "We no longer can rely on doing business just in Lawrence, Kansas. We would love more than anything to be able to do all of our business and to work in this community, but with recent conditions things have slowed down. We've had to look in other areas."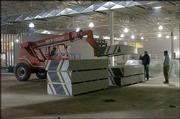 While the total valuation of January's permits was higher than the $5.3 million issued in January 2004, both totals were the lowest for a January since 1998, when the city issued permits worth $5.2 million. The last time the city issued fewer than five permits in January for new single-family homes was in 1997, when four permits were issued.
"I'm sure we'll see more," Walthall said. "There are more subdivisions in the pipeline."
This year's permits started with a big one: a $3.51 million remodeling of the former Payless Cashways building at 3434 Iowa. The building is being converted into a new auto "experience" for Crown Toyota and affiliated operations, which include an expanded maintenance shop, a used-car showroom, a body shop and a casual cafe, owner Miles Schnaer said.
The new lot abuts Iowa Street, and the building sits alongside the path of what is supposed to be a completed South Lawrence Trafficway that would connect Iowa Street and Kansas Highway 10 at the southeastern edge of town.
"It's a tremendous opportunity for us," said Schnaer, who bought Crown Chevrolet, Oldsmobile and Toyota in 1994.
Schnaer must be in the new building by June 20, in time to meet conditions of a land swap with Wal-Mart, which plans to expand its store at 3300 Iowa into a supercenter.
Cornerstone Construction Co. took out a permit for a new $550,000 commercial building at 1918 E. 23rd St., just east of the 10 Marketplace shopping center. The new building has 10,000 square feet of space poised to be occupied by two "national chain retailers," said Ken Hayes, of Cornerstone.
Hayes said he was close to signing leases with the companies: one "automotive oriented," the other offering general merchandise.
Cornerstone, of Lawrence, likewise has branched out of town. The company is adding 9,000 square feet to its Signal Oak strip center in Baldwin.
"The southeast side of Lawrence has seen a lot of residential development in the last five, 10 years, and it's starting to see even more," said Hayes, who also is mayor of Baldwin.
Also on the permit list for January: a new $150,000 building at 601 N. Second St. in North Lawrence, where owner Alexander Plotnikov is relocating his business -- Alek's Auto Sales and Service, currently at 707 N. Second St. -- in May.
He plans to have about 20 used vehicles on the lot and four full-time employees.
Copyright 2018 The Lawrence Journal-World. All rights reserved. This material may not be published, broadcast, rewritten or redistributed. We strive to uphold our values for every story published.