Chicago — Craig Williams knows to have his cell phone and computer well-charged before he flies because there is always a chance he will be delayed -- especially if he is flying out of Chicago's O'Hare Airport.
The numbers back him up: O'Hare finished dead last among the nation's 31 busiest airports for on-time departures and arrivals last year.
"It's just something you have to deal with," the Charlotte, N.C., sales manager said Friday between business calls as he waited for a flight at O'Hare. "I think that for seasoned business travelers the expectations have gone way down. If you are not expecting to fly on time and get good service, you're not disappointed."
The U.S. Department of Transportation on Thursday released its airport statistics for 2004. Thirty percent of flights through O'Hare arrived late, and 73 percent departed on time. The previous year, O'Hare was next to last, just ahead of Newark Liberty International Airport in New Jersey.
Denver International Airport was first in on-time arrivals, with 83 percent of flights arriving on schedule, while Houston's Bush Intercontinental Airport was No. 1 for on-time departures, at 87 percent.
The delays at O'Hare are a big problem, and not just for O'Hare.
O'Hare regularly competes with Atlanta's airport for the title of world's busiest. (O'Hare has the most flights, but Atlanta has the most passengers coming through.) And congestion at O'Hare can quickly snarl air traffic nationwide.
"There's a saying that when O'Hare sneezes, the nation's airports catch a cold, and that's true," said Annette Martinez, spokeswoman for the Chicago Department of Aviation. "That problem can only be solved here. It cannot be solved at other airports."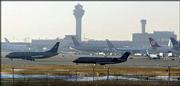 Federal, state and local officials have been trying to reduce that congestion. The Federal Aviation Administration reached an agreement with the major airlines in August to cut peak-hour arrivals, and the city is hoping for FAA approval of a $15 billion plan to add runways and reconfigure others at O'Hare.
But Chicago will always have to contend with its brutal winter weather and frequent fog off Lake Michigan.
Nationwide, the 19 airlines that reported their on-time performance to the Transportation Department said 78 percent of flights arrived on time last year, down from 82 percent in 2003.
Figures for December:
Arrivals
Departures
Airport
Number
On time
Number
On time
Kansas City
4,736
72.6%
4,735
76.6%
Wichita
879
69.5%
880
77.7%
O'Hare
29,358
65.7%
29,332
67.1%
Source: Bureau of Transportation Statistics
Copyright 2018 The Associated Press. All rights reserved. This material may not be published, broadcast, rewritten or redistributed. We strive to uphold our values for every story published.