Storrs, Conn. — Rashad Anderson hit all seven of his three-pointers and scored a career-high 33 points to lead No. 2 Connecticut to a 129-61 victory over Morehead State on Friday.
Anderson was one of seven players to score in double figures for the Huskies (9-0), who set a Gampel Pavilion record for points. The 68-point margin matched the Eagles' worst loss as Michigan State beat them 121-53 in 1992-93.
Shaun Williams had 25 points for Morehead State (1-8).
No. 9 Washington 54, Lehigh 37
Seattle -- Bobby Jones scored 12 points -- including the 1,000th of his career -- and the Huskies extended the nation's longest home winning streak to 31 games.
Washington (10-0) is off to its best start since going 14-0 in 1975.
Jose Olivero had 13 points for Lehigh (5-7), which shot 29 percent and finished with the fewest points for a Washington opponent since Feb. 29, 1952, when the Huskies beat Washington State 75-37.
No. 12 UCLA 86, Sacramento State 56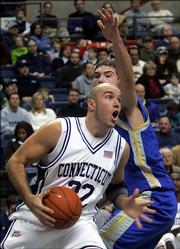 Los Angeles -- Aaron Afflalo scored 22 points to lead UCLA to its seventh straight victory.
Jordan Farmar had 15 points for the Bruins (10-1), whose only loss was to No. 4 Memphis in the NIT Season Tip-Off semifinals. It's the school's best start since 1994-95, when the Bruins finished 32-1 and won the NCAA championship under Jim Harrick.
The Bruins opened their first-ever meeting with Sacramento State (8-5) with an 18-2 run.
Jason Harris scored 16 points for the Hornets, who are 1-26 against Pac-10 teams.
No. 16 Maryland 81, American U. 55
College Park, Md. -- Nik Caner-Medley and Chris McCray each scored 17 points and Maryland held American to 17 points in the first half.
Ekene Ibekwe had 13 points and 11 rebounds for the Terrapins (8-2), who led by 26 points at halftime after shooting 46 percent, outrebounding the Eagles 27-14 and forcing 12 turnovers.
Andre Ingram and Jordan Nichols each had 11 points for the Eagles (3-7), whose three-game winning streak ended.
No. 18 Indiana 73, Butler 55
Indianapolis -- Marco Killingsworth scored 27 points and Robert Vaden added 22 to lead the Hoosiers to win at Conseco Fieldhouse.
Killingsworth's three-point play with 4:22 left capped a 7-0 run and gave Indiana (7-2) a 56-46 lead.
Brandon Polk, who had 23 points, scored with 7:22 left, but the Bulldogs (6-5) didn't make another field goal for more than five minutes.
Killingsworth was 9-for-13 from the field and 9-for-10 from the free throw line. Indiana shot 58 percent from the field and outrebounded the Bulldogs 32-11.
No. 19 Kentucky 73, Iona 67
Louisville, Ky. -- Rajon Rondo had 13 points and Rekalin Sims broke out of a shooting slump to add 11 as Kentucky won its annual home game at Freedom Hall.
The Wildcats (8-3) never trailed, although the Gaels (7-1) played them far tougher than No. 11 Louisville -- the court's usual tenant -- did in getting blown out last Saturday in Lexington, Ky.
Sims was 5-of-8 from the field after being limited to five points over his previous three games.
Kentucky is 116-31 all-time in Louisville, including victories in its last 16 games there against teams other than the Cardinals.
Steve Burtt had 23 points for Iona.
No. 24 Ohio State 74, Tennessee State 65
Columbus, Ohio -- Je'Kel Foster and Terence Dials each had 19 points for Ohio State.
Jamar Butler added 10 points and seven assists for the Buckeyes (8-0), who jumped into the Top 25 this week for the first time in almost four years.
Wayne Arnold was 7-of-8 from three-point range and scored 23 points for the Tigers (2-4).
The Buckeyes trailed 55-52 with 10:43 left after Tennessee State's Kareem Grant scored inside off an assist from Price. But the Tigers didn't score again for the next 7 11/2 minutes.
Copyright 2018 The Associated Press. All rights reserved. This material may not be published, broadcast, rewritten or redistributed. We strive to uphold our values for every story published.