Miami — The last time he played in Miami, Vince Carter insisted he was fouled when his potential game-winning layup was swatted away at the buzzer. So Friday, he ensured the game was decided long before the final second.
Carter tied a career high with 51 points, getting 37 in the second half, and the New Jersey Nets extended their season-high winning streak to five games with a 95-88 victory over the Heat.
"Basically, one guy beat us. ... Vince was unbelievable," Heat coach Pat Riley said.
Shaquille O'Neal had 24 points and 14 rebounds, and Dwyane Wade added 17 points - on only 4-for-20 shooting - for Miami, which entertains the Los Angeles Lakers on Sunday in a much-anticipated Christmas matchup.
And given the way the Heat couldn't contain Carter, Lakers shooting guard Kobe Bryant - who had a 62-point effort against Dallas earlier this week - might be awaiting his chance to face Miami eagerly.
Yet Carter also drew inspiration from all the Heat-Lakers hype.
"All day I've been watching TV, and they were mentioning the Christmas Day game without mentioning they had a game tonight, or to watch the Nets," Carter said.
Wizards 112, Suns 111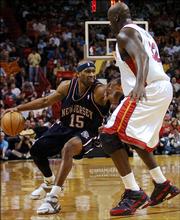 Phoenix - Gilbert Arenas scored 41 points, just enough for Washington to survive his poor foul shooting down the stretch. He missed three free throws in the final 44 seconds.
Nuggets 108, Rockets 86
Denver - Carmelo Anthony scored 25 points, and Denver held Tracy McGrady to a single basket over the first three quarters to snap a four-game losing streak.
Spurs 95, Raptors 90
San Antonio - Tim Duncan scored nine of his 27 points in the final period and added 10 rebounds and eight assists to lead San Antonio.
Bucks 101, Hornets 94
Milwaukee - Michael Redd scored 14 of his 36 points in the fourth quarter, leading Milwaukee past New Orleans.
Pistons 97, Warriors 85
Auburn Hills, Mich. - Richard Hamilton scored 28 points, and Ben Wallace added 15 points and 14 rebounds to help Detroit improve to 21-3.
Cavaliers 94, Pacers 89
Cleveland - LeBron James scored a season-low 14 points but added nine assists and eight rebounds as Cleveland won its fifth straight. Drew Gooden added 21 points and 12 rebounds on a tender ankle.
Grizzlies 95, Bulls 77
Memphis, Tenn. - Mike Miller scored 27 points and grabbed 10 rebounds, and Pau Gasol added 19 points for Memphis.
Trail Blazers 91, Timberwolves 83
Minneapolis - Zach Randolph had 21 points and 10 rebounds, Ruben Patterson added a season-high 23 points, and Portland overcame coach Nate McMillan's ejection.
Knicks 98, Jazz 90
New York - Jamal Crawford scored 28 points, and Stephon Marbury had 22 points and seven assists as New York snapped a season-high seven-game losing streak.
Clippers 97, Bobcats 88
Charlotte, N.C. - Elton Brand had 38 points and 20 rebounds as Los Angeles defeated Charlotte. Chris Kaman added 22 points and a career-high 22 rebounds for the Clippers.
Lakers 104, Magic 88
Orlando, Fla. - Kobe Bryant had 21 points and nine assists, and Chris Mihm scored 20 points to lead Los Angeles over Orlando.
Hawks 111, 76ers 108
Atlanta - Allen Iverson scored 53 points, the fifth-highest total of his career, but Joe Johnson had 24 to lead Atlanta.
Mavericks 101, SuperSonics 98
Seattle - Jason Terry made two three-pointers in the final two minutes, the second with 18 seconds left, and Dallas rallied from a 12-point deficit in the fourth quarter to beat Seattle.
Copyright 2018 The Associated Press. All rights reserved. This material may not be published, broadcast, rewritten or redistributed. We strive to uphold our values for every story published.