New York — Relieved New Yorkers happily hopped on subways and buses Friday and drove into the city without carpooling requirements a day after a strike of the nation's largest mass transit system ended.
Rachael Staten, who waited for a downtown Manhattan subway, said she had missed the trains during the three-day strike.
"It didn't feel like New York without it," said Staten, of Brooklyn. "I felt really excited when I swiped my (fare) card. I hadn't done it in a few days."
Subways and buses returned to service smoothly for more than 7 million daily riders, though the traffic flow was lighter than usual heading into the holiday weekend, transit officials said.
The strike ended Thursday after the Transport Workers Union worked out the framework for a deal with the Metropolitan Transportation Authority after an all-night session with a mediator. The deal doesn't resolve the contract dispute for the 33,000 workers, however, and if negotiations fail, a walkout could happen again.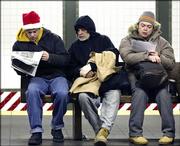 Union leader Roger Toussaint said the pension proposal was unacceptable and the major sticking point in the contract.
Transit workers, whose contract expired Dec. 16, were troubled by the uncertainty.
"We wanna know what we gained and what we have to give up," said bus driver Dady Halaby, behind the wheel of a bus traveling through the Upper East Side.
Copyright 2018 The Associated Press. All rights reserved. This material may not be published, broadcast, rewritten or redistributed. We strive to uphold our values for every story published.