Columbia, Mo. — The shots hadn't been falling Sunday for Missouri's Jimmy McKinney, but coach Quin Snyder still had confidence in his senior guard.
That patience paid off, and McKinney hit jumpers on back-to-back possessions with less than five minutes left to help Missouri edge Furman, 72-63.
"The things that he scored in were set plays for him," Snyder said. "We went to him, which should tell him a lot about how I feel about him when you're 0-for-10 and your coach calls your number back-to-back."
McKinney's second jumper with 3:21 left gave Missouri (4-3) the lead for good, and Jason Horton hit a three-pointer to extend the Tiger advantage to 65-60 with 1:53 left.
"That was the difference in the game. They stepped up and made two jump shots, and we didn't take care of our opportunities," Furman coach Larry Davis said.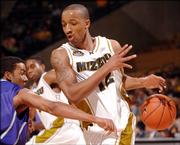 Furman had a couple of chances to tighten the game with less than a minute to go, but Eric Webb's three-point attempt fell short for the Paladins, and Robby Bostain missed a layup.
"We have been in a funk as a team for about the last two weeks, and in the second half began to come out of it," Davis said. "Toward the end of the game, when it got a little close, as a coach, all I could ask was to get the kind of shots we got. Those shots go, and all of a sudden it's a different ballgame, probably."
Thomas Gardner led Missouri with 20 points, and Horton added 13. McKinney, who had seven points on 2-for-12 shooting from the floor, said he appreciated Snyder's confidence late.
"He knows that I can knock down those shots," McKinney said. "I should have been knocking down those shots the whole game, but they just weren't falling for me. It's definitely frustrating, but I kept my focus and I was trying to smile and be like, 'Man, it's going to fall. It's going to fall sooner or later."'
Oklahoma St. 97, Mercer 61
Stillwater, Okla. - JamesOn Curry scored a career-high 30 points as Oklahoma State ended a two-game losing streak. Marcus Dove added 14 points for the Cowboys (7-3), who rebounded from last week's gut-wrenching loss to No. 10 Gonzaga and an earlier upset by Northwestern State.
Will Emerson and Ross Alacqua scored 14 points to lead Mercer as the Bears (1-4) lost in the first meeting between the two teams.
Copyright 2017 The Associated Press. All rights reserved. This material may not be published, broadcast, rewritten or redistributed. We strive to uphold our values for every story published.