LEXINGTON, KY. — One game after its worst performance of the season, Kentucky put together its best.
Rajon Rondo scored 25 points, setting a career high for the fourth time this season, and the 23rd-ranked Wildcats rebounded from their most lopsided loss in 16 years to beat No. 4 Louisville, 73-61, Saturday.
Kentucky, which was in danger of dropping out of the Top 25 after a run of 87 straight poll appearances, beat its archrival in consecutive years for the first time since winning three straight over the Cardinals from 2000 to 2002.
"I know everyone in the United States, and especially in this state, talks about this game," Kentucky center Lukasz Obrzut said. "It's the most important game of the year."
Louisville coach Rick Pitino - who restored Kentucky basketball to glory in the 1990s as the Wildcats' coach - has a 34-3 record in December games during his five seasons with Louisville. All three losses have come to Kentucky. Pitino is 1-2 at Rupp Arena as the Cardinals' coach.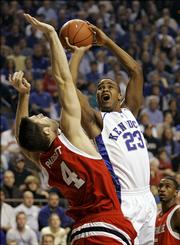 The victory - before 24,432 fans, the second-largest crowd in the 30-year history of Rupp Arena - was the 350th of Kentucky coach Tubby Smith's career. He is one of seven coaches to have reached 350 wins in 15 seasons or less. His career record is 350-123 in 15 seasons at Tulsa, Georgia and Kentucky.
Kentucky (7-3) had lost two of its previous three games, including a 26-point defeat against Indiana on Dec. 10. Smith juggled his starting lineup - inserting guard Joe Crawford, forward Sheray Thomas and Obrzut - and the move paid immediate dividends.
Kentucky wasted little time asserting its dominance against the Cardinals (6-1), never trailing and jumping to a double-digit lead in the first seven minutes.
"We got off to a great start and played very energized," Smith said.
No. 5 Memphis 72, Mississippi 49
Oxford, Miss. - Rodney Carney, Memphis' sixth man, scored 19 points to lead the fifth-ranked Tigers over Mississippi. The Tigers (8-1) never trailed, led by as many as 24 points and shot nearly 44 percent in winning their fifth straight game.
No. 10 Gonzaga 80, Virginia 69
Spokane, Wash. - Adam Morrison scored 27 points, and Gonzaga defeated Virginia. Point guard Derek Raivio, returning after missing two games because of a back injury, scored 18 points, including five three-pointers, for Gonzaga (7-2).
No. 14 UCLA 68, Michigan 61
Ann Arbor, Mich. - Jordan Farmar had 21 points, Arron Afflalo scored 20, and UCLA held off a late rally to beat Michigan. The Bruins (8-1) are off to their best start since the 1997-98 season. The Wolverines fell to 7-1.
No. 15 G. Washington 98, Md.-Eastern Shore 72
Washington - Danilo Pinnock scored 18 points to lead five George Washington players in double figures. Pops Mensah-Bonsu had 16 points, nine rebounds and three blocks for the Colonials (8-0), off to their best start since 1953-54, when they won their first 11 games.
No. 16 Wake Forest 61, Princeton 42
Winston-Salem, N.C. - Eric Williams had 15 points, and Justin Gray added 14, helping Wake Forest bounce back from a rare home loss to beat Princeton. Trent Strickland scored 13 points.
No. 19 North Carolina 76, Santa Clara 58
Chapel Hill, N.C. - Tyler Hansbrough scored 14 points to lead North Carolina. Reyshawn Terry scored eight of his 13 points during a key second-half run for the Tar Heels (6-1), who pulled away midway through the half in their first game after a 10-day exam break. Freshman Bobby Frasor also had 13 points to go with five rebounds.
No. 22 Iowa 62, Arizona State 43
Iowa City, Iowa - Adam Haluska scored 17 points, but it was Iowa's stingy defense that propelled the Hawkeyes. Haluska was 4-of-8 from the field and hit all six free throws to help the Hawkeyes (8-3) snap a two-game losing streak. Greg Brunner had 12 points and 15 rebounds.
No. 24 Arizona 73, Utah 43
Salt Lake City - Hassan Adams scored 27, and Chris Rodgers added 13, giving the Wildcats their first three-game winning streak of the season. The Wildcats (5-3) shot 48 percent, forced 24 turnovers and blocked seven shots, beating the Utes (5-3) for the second straight season.
South Alabama 66, No. 25 Houston 62
Mobile, Ala. - Richard Law and Chey Christie each scored 12 points, and South Alabama beat Houston, the Jaguars' sixth straight victory. The winning streak is the longest for South Alabama (7-1) since the 1999-2000 season, when the Jaguars won eight in a row. The Cougars (4-2) moved into the Top 25 this week for the first time since the 1992-93 season.
Copyright 2017 The Associated Press. All rights reserved. This material may not be published, broadcast, rewritten or redistributed. We strive to uphold our values for every story published.