Washington — President Bush pledged on Thursday to rebuild New Orleans' shattered levee system taller and stronger than before Hurricane Katrina struck, requesting an additional $1.5 billion to buttress the system that failed and left the city flooded.
"The federal government is committed to building the best levee system known in the world," said Donald Powell, the top federal official for reconstruction.
Officials dodged the question of whether the levees would be built to withstand a Category 5 hurricane, using broader language instead to promise that the city's citizens would be safe and the new levees would exceed anything New Orleans had ever seen.
Katrina, a Category 4 storm, surged through the city's levees at numerous points after it hit on Aug. 29, killing 1,300 people in the Gulf region. Louisiana officials have said bringing the levees to Category 5 level is crucial for persuading people to move back.
"This action today says come home to New Orleans," Mayor Ray Nagin said after meeting with Bush at the White House. "It's time for you to come back to the Big Easy."
Powell said the president already had requested $1.6 billion to repair breaches in the levees, correct design and construction flaws and bring the levee system to a height authorized before the hurricane. This work is to be completed by next June.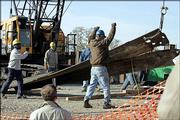 The additional $1.5 billion the president is requesting would pay to armor the levee system with concrete and stone, close three interior canals and provide state-of-the art pumping systems so that the water would flow out of the canals into Lake Pontchartrain, Powell said. This additional work will take two years.
"I'm convinced that what we're doing here today - if there is another Katrina that hits New Orleans that we would not see the catastrophic results that we saw during Katrina," Powell said. "There will be some flooding, but it will be manageable type flooding."
Later on Capitol Hill, Powell said the government is waiting on a study next year before deciding whether to rebuild the levees to withstand a Category 5 storm.
Sen. Mary Landrieu, D-La., called the money "a real step in the right direction." Sen. David Vitter, R-La., said future plans should include a Category 5 design for the most populated areas, adding, "That should engender enormous confidence."
Nagin said he was pleased with the announcement.
"These levees will be as high as 17 feet in some areas. We've never had that," he said. "These levees will be fortified with rock and concrete. We've never had that before." He also said there would be pumping stations with "backup systems that we only dreamed about."
Copyright 2018 The Associated Press. All rights reserved. This material may not be published, broadcast, rewritten or redistributed. We strive to uphold our values for every story published.