Every year, holiday decorations seem to be unveiled earlier and earlier. This year they went up long before Halloween.
We seem to be obsessed with trimming the house from eaves to floorboards with festive cheer. And it's big business. Spending on seasonal and holiday decorations grows at an annual rate of 4.5 percent, according to marketresearch.com. The Web site notes that in 2003 Americans spent $14.1 billion dollars sprucing up their homes. That number climbed to $14.7 billion last year.
Indeed, creating a holiday atmosphere is a passion in many households, and why not? It's a fantastic creative outlet and a grand gesture of self-expression. In many households, traditions and memories seep out of every little ornament as it's unwrapped and we recall holidays pasts.
With all the insane consumerism comes a demand for new ideas. This year, alternatives to the traditional Christmas tree abound, whether in addition to the family spruce or as a clever substitute to avoid vacuuming up pine needles until May.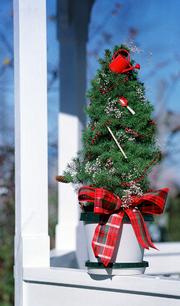 If you're open to new ideas, just about anything can fill in as a holiday tree. For those who prefer a natural approach, here are a few options:
¢ Holly in a container, trimmed in a conical shape, is a lasting alternative, as are cypress and magnolia trees. All can be promptly planted outside after the holiday for years of enjoyment.
¢ Try designating an existing outdoor tree, decorate it with ornaments that can withstand the weather, and everyone in the neighborhood will delight in your communal conifer creation.
¢ A bonsai or miniature evergreen is a fanciful way to spruce up a table, keeping your tree out of reach of pets and small children.
¢ Houseplants can be decorated easily and become a twinkling masterpiece as a holiday tree.
Scott Wisdom, sales associate at Sunrise Garden Center, 15th and New York, says it's common for customers to purchase a Norfolk pine at this time of year and treat it as their Christmas tree.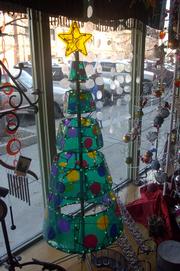 "Podocarpus is also a nice evergreen-type tree with lateral branches that are easy to decorate, and that is a nice option as well," he says.
For a really daring flair to holiday decorating, you could try creating a tree out of not-so-ordinary objects. Loni Hosking, showroom manager of Waxman Candles, 609 Mass., who for 15 years has been the genius behind the funky and unique look of the store, has this advice:
"I really appreciate it when people think outside of the box and create a tree from candles or boxes or poinsettias," she says. "It is more interesting of a decoration when you concoct the idea and create the vision yourself."
Here are a few seeds to sprout an idea for your own funky, one-of-a-kind creations:
¢ Wood cutout trees. You can paint them or find a nice knotty pine and leave them natural.
¢ Create a colorful tree out of ribbons.
¢ A fruit tree. Use either real or artificial fruit.
¢ A tree made out of feathers.
¢ Invert a round, metal tomato cage, wire the end shut and wrap the cone with real or fake greenery. String with lights and decorations.
¢ A wire tree.
¢ The old-time aluminum trees.
¢ A tinsel tree.
¢ Wrap boxes in paper and stack them from large to small to create a tree.
The possibilities are endless, the materials are as wide as your creativity, and the process of actually creating a tree from the ground up certainly will be a badge of honor upon its completion.
So get out there and spend your allotted $215 on holiday decorations. Be festive; be merry; and, most importantly, be original.
Sources: www.ag.auburn.edu; www.joytotheplanet.com; www.channel4.com
Copyright 2018 The Lawrence Journal-World. All rights reserved. This material may not be published, broadcast, rewritten or redistributed. We strive to uphold our values for every story published.