Boston — The Boston Celtics took advantage of the short-handed Indiana Pacers.
Paul Pierce had 25 points and seven rebounds to lead Boston over the Pacers, 85-71, Wednesday night.
Indiana's Ron Artest missed his third consecutive game and second since requesting a trade last weekend. The Pacers also were without guard Jamaal Tinsley and forward Austin Croshere, who both missed the game because of injuries.
"I wouldn't say (missing Artest) was the problem," Indiana guard Anthony Johnson said. "You can credit their defense or our lack of execution."
Mark Blount added a season-high 22 points for the Celtics, who snapped a two-game skid in their first home game since Dec. 2.
Boston had its best defensive effort of the season, holding Indiana to a season low in points. The Pacers shot just 32.5 percent from the field, and Jermaine O'Neal was held to 14 points after scoring at least 20 in seven consecutive games.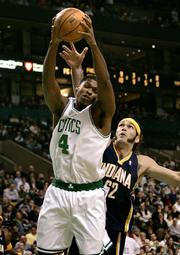 "We stayed pretty consistent on defense," Pierce said. "We were able to smother O'Neal, didn't let him get off to his usual All-Star self. We covered well, and that was the key."
The Celtics went on an 8-0 run to start the second quarter and took a 30-21 lead on Al Jefferson's layup with 9:13 left in the half. The Pacers missed their first 11 field-goal attempts of the second quarter, including a dunk by O'Neal, before Stephen Jackson's layup broke the drought with 4:33 left in the half.
"When we had good shots, we couldn't get them to go," Indiana coach Rick Carlisle said.
Bulls 105, Raptors 94
Toronto - Darius Songaila scored 18 points, and Chicago beat Toronto for the 10th straight time. Seven Chicago players reached double figures in scoring. The Bulls shot 58 percent and went 9-for-17 from three-point range.
Pistons 109, Kings 98
Auburn Hills, Mich. - Chauncey Billups had 28 points and a career-high 19 assists, and Richard Hamilton scored 36 points to lead Detroit over Sacramento. The Pistons improved to 16-3, tying the 1996-97 team for the best start in franchise history. The Kings (10-13) had their three-game winning streak snapped.
76ers 106, Hawks 101
Philadelphia - Allen Iverson scored 39 points, Chris Webber had 29, and Philadelphia held off Atlanta. Samuel Dalembert had 11 rebounds and two blocked shots, helping the Atlantic Division-leading Sixers to their fourth straight victory as they moved over .500 for the first time since Nov. 29.
Magic 105, Knicks 90
New York - Grant Hill made a key three-pointer during a decisive run in his season debut for Orlando, and Dwight Howard had 23 points and 13 rebounds to help the Magic defeat New York. Hill missed Orlando's first 19 games following surgery for a sports hernia Oct. 31. He started and scored seven points in 22 minutes and was on the floor late in the second quarter when the Magic took control for good.
Mavericks 102, Suns 96
Dallas - Dirk Nowitzki scored 29 points, and Jason Terry added 23, leading Dallas past Phoenix. Terry made 10 of 22 shots with four assists. He had seven points during an early 15-2 run.
Hornets 102, Clippers 89
Oklahoma City - J.R. Smith scored 21 points and matched his career high with six three-pointers as New Orleans held off a late charge by Los Angeles. Smith, who was coming off a season-high 26-point performance, hit six of 10 from three-point range.
Lakers 94, Grizzlies 79
Memphis, Tenn. - Kobe Bryant scored 27 points, and Los Angeles completed a six-game road trip with a victory over Memphis. The victory gave the Lakers a 5-1 record on the trip and snapped a five-game losing streak in Memphis.
Jazz 82, Blazers 77
Salt Lake City - Andrei Kirilenko had 21 points, 16 rebounds and eight blocks to lead Utah over Portland. Mehmet Okur added 21 points, and Devin Brown scored 13, sealing it for the Jazz on two free throws with three seconds left after what the Trail Blazers felt was a shot-clock violation.
Bobcats 91, Nets 83
East Rutherford, N.J. - Brevin Knight scored a season-high 25 points, and Charlotte snapped an eight-game losing streak. Jumaine Jones scored 15 points off the bench, and Emeka Okafor added 14 for Charlotte.
Heat 100, Bucks 83
Milwaukee - Dwyane Wade scored 27 points, and Gary Payton added 20 to give Miami coach Pat Riley his second victory in two nights. Wade and Payton exposed Milwaukee's lack of perimeter defense, combining to go 17-for-26 from the field.
Rockets 111, Warriors 105, OT
Oakland, Calif. - Rookie guard Luther Head hit a tying three-pointer with 2.7 seconds left in regulation, Yao Ming scored four of his 30 points in overtime, and Houston won for the fifth time in six games.
Copyright 2018 The Associated Press. All rights reserved. This material may not be published, broadcast, rewritten or redistributed. We strive to uphold our values for every story published.