Kansas City, Mo. — The Kansas City Wizards are still up for sale, but will remain in Kansas City at least through the 2006 season, owner Lamar Hunt said Tuesday.
The team also announced that Bob Gansler, Major League Soccer's longest-tenured coach, would return for an eighth season in 2006.
Hunt, who has been trying to sell the team for more than a year, said his family's Hunt Sports Group again would operate the team next season. He has said he hopes to sell the Wizards to a buyer who will keep them in the Kansas City area - and build a soccer-specific stadium for them, possibly in suburban Johnson County, Kan.
"Within the past week, we've gotten a substantial offer to purchase the team," Hunt said at a news conference. "We were not able to accept that offer, because there were some conditions we didn't find acceptable. The group interested in purchasing the team wanted to be sure there was a soccer-specific stadium here before they closed the deal."
Hunt declined to say who made that offer, but said it came from a local group.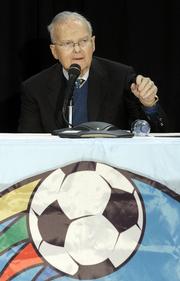 Solid prospective ownership groups also exist in two other cities, Hunt said, while declining to say where.
Hunt Sports Group also owns Major League Soccer's Columbus Crew and FC Dallas and has built soccer-specific stadiums for those clubs. But in Kansas City, its main focus is on Hunt's flagship sports franchise, the NFL's Kansas City Chiefs.
Tuesday's announcement clears the way for the Wizards to begin selling season tickets, a process that had been shut down since October. Renewal letters to current season-ticket holders went out Monday night, general manager Curt Johnson said.
The Wizards open the 2006 season at home against Columbus on April 1. Hunt has been trying to sell the Wizards since December 2004.
Copyright 2018 The Associated Press. All rights reserved. This material may not be published, broadcast, rewritten or redistributed. We strive to uphold our values for every story published.