GAINESVILLE, FLA. — Al Horford and the undefeated Florida Gators pushed aside overmatched Bethune-Cookman with a total team effort.
Horford scored 17 points on 8-for-8 shooting, and No. 10 Florida shot an O'Connell Center-record 67.3 percent and finished with a season-high 27 assists in its 88-58 victory over Bethune-Cookman on Friday night.
"Everyone wants to share the ball and make the extra pass," Horford said. "That's something a lot of teams don't have, but it's the only way we know how to play."
Lee Humphrey added 13 points for Florida (9-0). Joakim Noah scored 12 points, and Walter Hodge and Chris Richard each had 11.
"We took the unselfishness to an extreme," Florida coach Billy Donovan said. "But I'd rather see a team be too unselfish than too selfish. This is a team I like coaching because it plays the way I like to see us play."
Antonio Webb led Bethune-Cookman (3-5) with 19 points, and Michael Williams added 18. Webb, the Wildcats top scorer for the season, was limited to two field goals in the first half before scoring 13 points in the second half.
"It could have been worse, but I wish it would have been a whole lot better," Wildcats coach Clifford Reed said. "Florida is a young, but really talented team."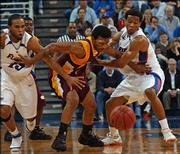 Florida, unranked at the start of the season, is 9-0 for the second time in school history. If the Gators beat Jacksonville on Dec. 18 at home, they will match the best start in school history set in 1951-52.
Florida shot 71 percent in the opening half, had assists on 16 of its 20 baskets and took control in the first four minutes with a 13-2 run that forced Bethune-Cookman into a 30-second timeout. Bethune-Cookman scored the next four points before the Gators went on a 13-4 spurt to make it 26-10.
Leading 28-18, Florida got back-to-back three-pointers from Walter Hodge and Lee Humphrey to start a 16-4 streak. The Gators led 48-26 at the half, and Horford hit all five of his shots against the small Bethune-Cookman front line.
Bethune-Cookman lost to Florida for the sixth time in six meetings, with the Gators winning by an average of 25 points.
Copyright 2018 The Associated Press. All rights reserved. This material may not be published, broadcast, rewritten or redistributed. We strive to uphold our values for every story published.