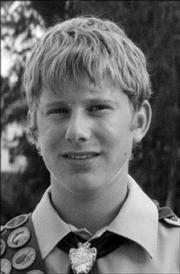 Chris Schweer, 17, of St. Louis and formerly of Lawrence, earned the Eagle Scout award, the highest award in Boy Scouts, during a Court of Honor ceremony Nov. 20. He joined the organization in 1996 in Lawrence, where he was a member of Troop 55. After moving to St. Louis, he joined Troop 166 in Oakville, Mo., where he currently is a member.
Chris has attended summer camps with both the Lawrence and St. Louis troops. He was elected by his peers to the Order of the Arrow his first year in Troop 166. He attended Philmont Scout Reservation in Cimarron, N.M., in 2003. Chris earned 34 merit badges before becoming an Eagle Scout.
For his Eagle project, Chris designed, planned and implemented the construction of three bench shelters at the Missouri Department of Conservation Jay Henges Shooting Range.
Chris attends Oakville Senior High School where he is a junior honor student and a member of the Oakville Tigers Marching Band. He also has been active with the St. Louis County Teen Police Academy. He is the son of Ron and Brenda Schweer, St. Louis.
Copyright 2018 The Lawrence Journal-World. All rights reserved. This material may not be published, broadcast, rewritten or redistributed. We strive to uphold our values for every story published.